Baby Is All Smiles When He Sees Mommy In The Camera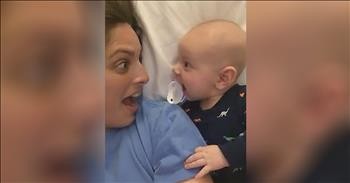 This tiny baby is overjoyed to see 2 of Mommy. There's no doubt that children are truly a gift from God. These precious babes start as infants and gradually turn into little people with their own unique personalities. And along with those personalities come a lot of hilarious moments. This little guy is discovering the wonders of technology and it's beyond sweet.

As he lies next to his mom, she holds the camera on her phone out in front of them. With the screen turned towards them, the baby can see himself and his mom on the phone. That's when he discovers that there is a Mommy beside him and another in front. His innocent eyes immediately light up and he cannot hide his smile. What a moment to discover that there is more of this amazing woman in his life.
I just love how he continues to switch his head from the mom beside him and the one on the screen. The joy on his face is truly contagious and the rest of the world seems to agree. This viral video has accrued over 18 million views on Facebook and it's continuing to grow.
Psalm 127:3-5 "3 Children are a heritage from the LORD, offspring a reward from him. 4 Like arrows in the hands of a warrior are children born in one's youth. 5 Blessed is the man whose quiver is full of them. They will not be put to shame when they contend with their opponents in court."
When you just can't believe that you're seeing TWO of Mommy 🥰

Posted by Andrea Boals on Wednesday, December 26, 2018
godtube-inspiration

9477 views

2019-01-09T16:57:30

source: Andrea Boals This tiny baby is overjoyed to see 2 of Mommy. There's no doubt that children are truly a gift from God. These precious babes start as infants and gradually turn into little people with their own unique personalities. And along with those personalities come a lot of hilarious moments. This little guy is discovering the wonders of technology and it's beyond sweet.

As he lies next to his mom, she holds the camera on her phone out in front of them. With the screen turned towards them, the baby can see himself and his mom on the phone. That's when he discovers that there is a Mommy beside him and another in front. His innocent eyes immediately light up and he cannot hide his smile. What a moment to discover that there is more of this amazing woman in his life.

I just love how he continues to switch his head from the mom beside him and the one on the screen. The joy on his face is truly contagious and the rest of the world seems to agree. This viral video has accrued over 18 million views on Facebook and it's continuing to grow.

Psalm 127:3-5 "3 Children are a heritage from the LORD, offspring a reward from him. 4 Like arrows in the hands of a warrior are children born in one's youth. 5 Blessed is the man whose quiver is full of them. They will not be put to shame when they contend with their opponents in court."
Today's Devotional
A Prayer for When Life Doesn't Turn Out the Way You Expect - Your Daily Prayer - June 18
Top Artists