'Silent Night' - Live From Hillsong Worship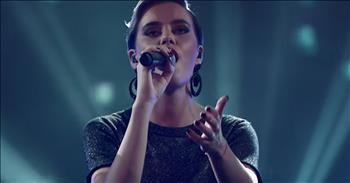 The classic Christmas song 'Silent Night' is one of the most beloved hymns of all time. There's no doubt that this beautiful song that has truly stood the test of time. These powerful words still ring out true today, proclaiming the birth of our Savior, Jesus Christ.

'Silent night, holy night
All is calm, all is bright
'Round yon virgin Mother and Child
Holy infant so tender and mild
Sleep in heavenly peace
Sleep in heavenly peace'
Today, the talented Australian group Hillsong Worship is performing their own rendition of 'Silent Night' and it's absolutely beautiful. This popular worship group was formed in 1983 and since that time they've continued to spread the word of God through music. Some of their most famous songs include
'What A Beautiful Name'
and
'Who You Say I Am.'
Now, they are belting out the powerful words of this Christmas hymn and it's sure to remind you of the real reason for the season.
'Silent night, holy night!
Shepherds quake at the sight!
Glories stream from heaven afar;
Heavenly hosts sing Al-le-lu-ia!
Christ the Savior is born!
Christ the Savior is born!'
The birth of Jesus Christ paved the way for our salvation and it all started one starry night in Bethlehem. What a beautiful gift to sing out loud and spread the good news to the entire world.
Matthew 1:21 "She will give birth to a son, and you are to give him the name Jesus, because he will save his people from their sins."
hillsong-worship

3734 views

2018-12-12T10:36:00

source: Hillsong Worship The classic Christmas song 'Silent Night' is one of the most beloved hymns of all time. There's no doubt that this beautiful song that has truly stood the test of time. These powerful words still ring out true today, proclaiming the birth of our Savior, Jesus Christ.

'Silent night, holy night
All is calm, all is bright
'Round yon virgin Mother and Child
Holy infant so tender and mild
Sleep in heavenly peace
Sleep in heavenly peace'

Today, the talented Australian group Hillsong Worship is performing their own rendition of 'Silent Night' and it's absolutely beautiful. This popular worship group was formed in 1983 and since that time they've continued to spread the word of God through music. Some of their most famous songs include 'What A Beautiful Name' and 'Who You Say I Am.' Now, they are belting out the powerful words of this Christmas hymn and it's sure to remind you of the real reason for the season.

'Silent night, holy night!
Shepherds quake at the sight!
Glories stream from heaven afar;
Heavenly hosts sing Al-le-lu-ia!
Christ the Savior is born!
Christ the Savior is born!'

The birth of Jesus Christ paved the way for our salvation and it all started one starry night in Bethlehem. What a beautiful gift to sing out loud and spread the good news to the entire world.

Matthew 1:21 "She will give birth to a son, and you are to give him the name Jesus, because he will save his people from their sins."
Today's Devotional
A Prayer for a Full Understanding of God's Word - Your Daily Prayer - August 6
Top Artists