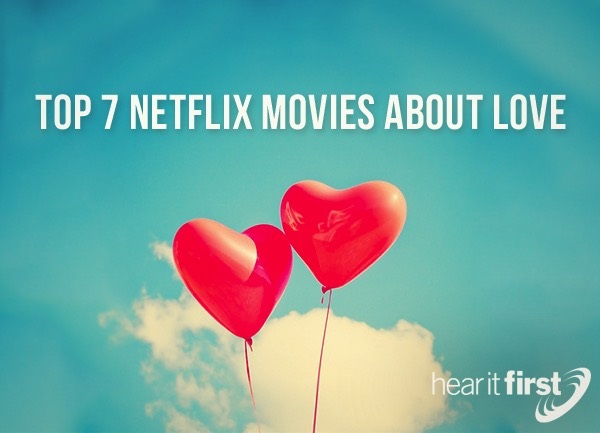 Here are seven of the top Netflix movies about love.
Sleepless in Seattle (1993)
The movie, "Sleepless in Seattle," is now considered a Hollywood classic, because of the timelessness of this story of love and destiny, where two people are incredibly thrown together. When Sam Baldwin's wife dies, Sam's son, Jonah, calls a radio talk show host and tells the phycologist how sad his dad is. Somehow, Jonah manages to connect to Annie, who lives in Baltimore, and he writes her a letter, pretending to be Sam and show his interest in Annie. After a couple of close calls where they almost met, Annie and her friend, watch the classic movie, "An Affair to Remember" (1957), where Nicky Ferrante (Carrie Grant), in international playboy, agrees to meet with Terry McKay (Deborah Kerr), on top of the Empire State Building, but tragedy strikes, and Terry can't make it. This movie has a lot in common with Sleepless in Seattle, and is one of the top Netflix movies about love, mainly because of its humor, but more so, the romantic ending that comes.
Atonement (2007)
"Atonement," released in 2007, is listed among the most romantic movies in the last decade, and stars Keira Knightley, James McAvoy, and Saoirse Ronan. The movie is based upon a novel by Ian McEwan, where Cecilia Tallis, an upper-class woman living in the English Countryside, and Robbie Turner, the son of one of the servants who works for Tallis, happen to meet and become attracted to one another, however, Cecilia's younger sister has a crush on Robbie and when she sees Cecilia and Robbie getting closer, she falsely accuses Robbie of raping her, and the two are separated from one another…just when they had begun to fall in love.
Love Story (1970)
The movie, "Love Story," is an American Hollywood classic, and even though it's an older film, it's nonetheless a classic equal in standing among those in this list. Certainly, those who have never seen this movie would do well to see it for the first time, because some things just don't change with time, whether it was yesterday or fifty years ago. The movie features Ryan O'Neal and Ali McGraw, and features Tommy Lee Jones acting debut. It's a story about a clash of two different societies; the one which Oliver Barrett IV comes from, which is an American upper-class East Coast family, and the one that Jennifer "Jenny" Cavalleri, comes from, which is a working class family. Rarely do these two radically different people meet, but after they marry, Oliver is cut off from his rich families support and has to work his way through Graduate school, but the ending is the most meaningful part of the entire film, when they discover that Jenny is going to die.
Love Comes Softly (2003)
The movie, "Love Comes Softly," stars Katherine Heigl, Dale Midkiff, and Corbin Bernson. In the wake of her husband's death, a newly widowed pioneer woman named Marty tries to survive life on the open range by heeding the advice of her friends by marrying a man she doesn't love, just so she'll be supported. In exchange for Marty being provided a place to live and survive, she agrees to care for a widowed man and his childd. Now this widow must learn to live with a recently widowed young man and his daughter, but amidst such heartbreak, can any of them ever find love again?
Titanic (1997)
The movie," Titanic," stars Leonardo DiCaprio, Kate Winslet, and Billy Zane, and the movie's about a chance romance between Jack, a penniless commoner who had to live in the far decks below, and Rose Dawson Calvert, who is being pressured to marry into the upper-crust of society so that her mother and her could live in luxury. Rose was even engaged, but when she met Jack, everything changed. Rose, the high-society girl and the penniless artist Jack, fall madly in love, but just as tragedy strikes. They fall in love, just in time for the Titanic to sink, and our hearts sink with the ending. Truly, this is one of the greatest love stories that Netflix offers. This movie was winner of 11 Oscars.
Romeo and Juliet (1996)
The classic movie, "Romeo and Juliet," from 1968 is very similar to the one produced in 1996, but is set in modern times. The 1996 version stars Leonardo DiCaprio, Claire Danes, and John Leguizamo, and similar to the 1968 version, this one also about two lovers who come from families that are at war with one another. The Montagues and Capulet's families cannot stand one another, but when two of them meet as children and fall in love, they are irresistibly brought together. At first, they try to hide their love relationship from family members, but when they're finally discovered, it looks like it might be the end. This version of Romeo and Juliet is much more relevant than the other which was set in the 16th century, but both are romantic movies you'll find on Netflix.
Wuthering Heights (2012)
The movie, "Wuthering Heights," from the novel by the same name, written by Emily Bronte, is a heart-wrenching movie about how lost love can turn any man evil. This classic movie stays true to the book's spirit while utilizing an unconventional approach to explore the romantic yearning that lies at the heart of this movie and the characters involved. Heathcliff, while living in Earnshaw's home, falls in love with the farmer's teenage daughter, Catherine, but this inspires an envious mistrust of his son, Hindley, so after Earnshaw passes away, the now-grown characters must finally confront the intense feelings and rivalries that have built up throughout their years together. The outcome will leave you in tears.
Conclusion
I am reminded that love is not just a feeling or shown in spoken words. It is demonstrated by our actions. Love is a verb more than a noun, because it motivates us to do things that are loving. God has given us the most supreme of example of love; and it is found in the Person and work of Jesus Christ (John 3:16), so whichever your favorite movie about love is, I hope you will take the time as a couple to enjoy classic movies like these, because love is the most important thing in a relationship. It bonds the couple together so that they can endure for better or for worse; for richer, or for poorer; in sickness and in health; to love and to cherish…till death do they part." That's the way God intended marriage to be, so what God has joined together, let no man split asunder.
Article by Jack Wellman