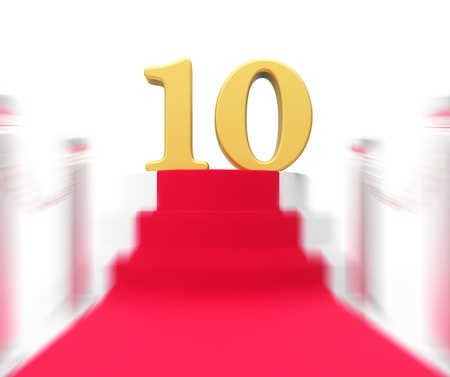 Did you grow up in the 90's? If so, you lived through some classic movie premiers! There were some movies that were targeted to children that contained inappropriate content and themes, but most film companies knew that parents were picky (and still are!) and focused on creating films that were perfect for the entire family. I remember many Friday movie nights. We went to our local Chart Hits Video Store and rented two or three movies to watch through the weekend. We made homemade popcorn using the good ol' air pop popcorn maker and sat in the living room playing on the floor while watching the movies.
10. The Mighty Ducks (1992)
A lawyer, Gordon Bombay, gets in trouble and his sentence is to serve as the coach of a youth hockey team. He played hockey as a child, but it only brings up memories of disappointing his coach after losing the shootout in a big game. The Ducks are the worst team in the league, but Gordon becomes passionate about his community service and starts turning their losing streak around.
9. My Girl (1991)
Vada Sultenfuss (played by Anna Chlumsky) lives with her father who runs a funeral home. Her mother died and she has become obsessed with death. Her best friend Thomas J. (played by Macauley Culkin) puts up with her and helps her scheme as her father begins falling in love with the makeup artist he hired.
8. The Little Rascals (1994)
Remember Spanky, Alfalfa, Darla and the whole little rascals gang? As president of the "He-Man Woman Haters Club," Spanky enforces the rule of not liking girls, but Alfalfa can't help it! In trying to break Darla and Alfalfa up, the boys end up burning down their clubhouse. The child-like antics and humor are hilarious!
7. Space Jam (1996)
Who doesn't remember the Space Jam theme song? The Looney Tunes are forced to go to the amusement park Moron Mountain and have to play basketball in order to earn their freedom again. The team plays the Monsters and become desperate so Bugs Bunny calls Michael Jordan.
6. The Flintstones (1994)
I remember the year The Flintstones came out and nearly every kid in my class dressed up as Betty, Fred or Bamm-Bamm for Halloween. Fred helps the Rubbles adopt a baby and so Barney feels compelled to help Fred get a promotion at work as an executive. Unfortunately, Cliff Vandercave is embezzling money and sets Fred up to take the fall.
5. Cool Runnings (1993)
"Feel the rhythm, feel the rhyme, get on up, it's bobsled time!" The best part about this story is that it's based on the true story of the first Jamaican bobsled team that went to the Olympics in 1988. Irv (played by John Candy) was an Olympic bobsledder back in his day until he cheated by adding extra weights to make his team's sled speed down the track. Derice Bannock dreams of becoming an Olympic track star and falls during his trial, but he is determined to still make it somehow. He learns of Irv, now a bartender in Jamaica, and convinces him to become the coach of the team he is struggling to assemble.
4. Home Alone (1990)
Home Alone, starring Macaulay Culkin as Kevin McCallister, was a huge deal! Kevin's big family was getting ready to go on vacation for the holidays to Paris, France and between all the rushing around, he was left at home. At first, Kevin loves the freedom and takes advantage of eating what he wants and messing around in his older brother Buzz's bedroom without being yelled at. Two burglars recognize the fact that many houses in the area are empty and begin breaking in. They come to Kevin's house, but he outsmarts them by hitting them with paint cans and setting up booby traps.
3. Beethoven
I loved dog movies growing up and Beethoven was no exception! George Newton is adamant about not allowing dogs in the family when his three kids rescue a St. Bernard puppy named Beethoven. The family's love for the dog, eventually wins George over as Beethoven helps his kids.
2. The Lion King (1994)
I loved The Lion King and remember when it first came out! Life looks so hopeful with a new lion cub named Simba born into the animal kingdom. As Simba grows he follows his father, King Mufasa, everywhere. His evil Uncle Scar becomes jealous because he wants the kingdom to himself. Scar becomes filled with rage and has his hyenas cause a stampede on purpose to put Simba in harm's way. King Mufasa gives his life to save his son's life. Simba is torn with guilt and runs away until he realizes the truth about his father's death.
1. Toy Story (1995)
Toy Story has become a beloved kid's movie for children of all ages. Andy (voiced by John Morris) is a young boy whose favorite toy is a cowboy doll named Woody (voiced by Tom Hanks). He receives a shiny new space action figure named Buzz (voiced by Tim Allen) and Woody gets jealous! Mr. Potato Head, Rex, Sergeant and the other toys try to knock some sense into Woody, but he won't listen. Woody rivals Buzz on everything until they have to work together to get back to Andy.
There are countless other awesome family movies from the 90's and the unforgettable lines to go along with them!
Article by Elise Cleary
I am a Christian writer and editor that lives in northern Michigan and thoroughly enjoy music, movies, TV shows, books and other entertainment with a Christian focus. My favorite song is "Oceans" by Hillsong United because it reminds me that has big plans for me and everyone else who puts their trust in Him. There are many movies that have impacted my life, but a few include God's Not Dead, The Shunning and Letters to God. I also write for www.faithandentertainment.com and love connecting with readers, so please don't hesitate to contact me! When I'm not writing I enjoy watching movies and laughing with my busy toddler and husband.