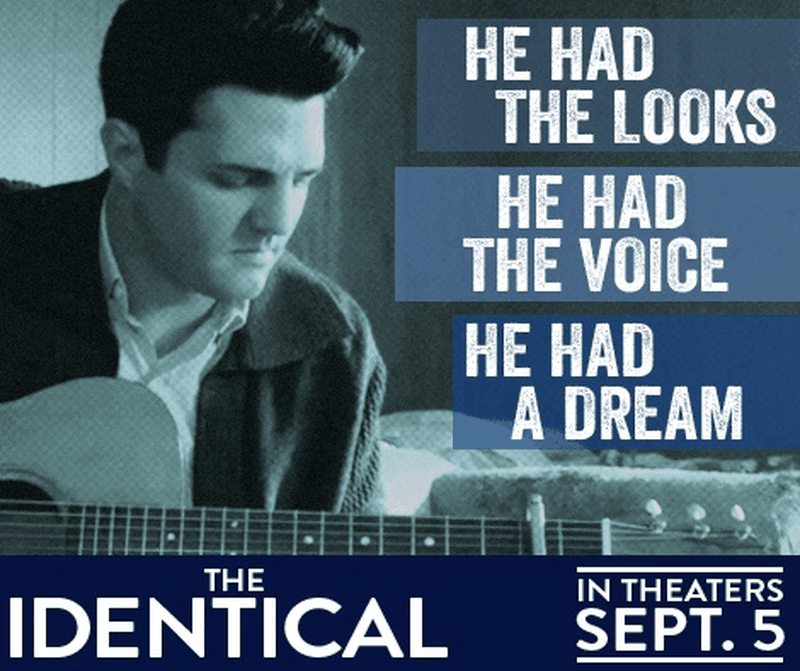 THE IDENTICAL, which will open in theaters nationwide on September 5, is a story of redemption with the heyday of 1950s rock 'n' roll as a backdrop, but the film also follows the life of Ryan Wade (Blake Rayne) from his birth as an identical twin born to a poor couple through the 1970s, including his marriage to Jenny (Erin Cottrell).
Because his parents cannot afford to raise two babies and risk losing both if they cannot provide for them, Ryan is given to a pastor and his wife (Ray Liotta and Ashley Judd). Separated from a twin whom Ryan did not even know existed, Ryan sets about trying to discover his identity and purpose in life. His ideas about what he should do with his life do not always agree with his father's dreams for him. But when he marries Jenny, he finds a supportive partner.
"It is a beautiful relationship that spans from the 50s up until we leave them off in the mid-70s. It's real, true love, and I think it's something you don't see very often now," Erin Cottrell said of Jenny and Ryan. "It's unconditional love; it's a brilliantly strong way to portray a marriage."
Cottrell might look familiar to fans of the "Love Comes Softly" series in which she played the role of Missy. Despite the differences in time periods of the movies, Cottrell said Jenny and Missy are very similar in nature. They are both "supportive, positive, kind and nurturing." Both have careers in the service industry; Jenny is a nurse, and Missy was a teacher.
When she read the role of Jenny, Cottrell could identify with her. She thought, "I can kind of just be myself. [My character] is the eyes of the audience."
Ryan and Jenny are a loving couple onscreen, and Cottrell and Blake Rayne worked well together off-screen. In fact, this film is Rayne's debut, and he was very appreciative of the support he found from the other actors on set. "I've told Erin before. If anyone else had been cast as my wife, I don't know if I could have done this," Rayne said.
That sense of camaraderie on the set was fostered by the atmosphere created by the filmmakers. The City of Peace Films production used the talents of three generations of the Marcellino family from Nashville. Jerry Marcellino co-wrote the 20-plus original songs featured in the film, along with his son Yochanan, who is the founder of City of Peace Films. Yochanan and Don Noes fulfilled their vision of producing this movie by raising the production funding and marketing budget. Dustin Marcellino served as the film's first-time director. Dustin said, "I prayed from the very beginning, 'God, you direct this film. Let me just be a tool.'"
Cottrell, for one, was inspired by the producers' drive to make this film. "The passion behind the producers and the whole family to create this movie with this story was so inspiring that, working every day on it, it started to feel like something bigger was at hand. The whole family was so passionate about telling the story that we, the cast, became equally as passionate. The driving force of the family was really motivating."
Rayne added, "Being my first film project, I took [the atmosphere on the set] almost for granted. Every day was a blessing to go to work – even if it was a 16-hour day."
Both actors could identify with one of the main themes of the movie about following the path to which one feels God is calling them versus following the path that outside forces such as family, no matter how well-intentioned, push.
In Rayne's case, he never really explored singing or acting as a possible career path because those endeavors were not really encouraged by his family when he was younger. When his mom sent him an entry form for an Elvis impersonation contest as a joke, he thought he would play along with the joke and entered it without any real expectation of winning. When he did win and had the opportunity to turn his impersonation into a career, he decided to pursue that avenue, despite many naysayers who questioned how he would ever be financially successful. He faced the same doubts from the outside when he decided to stop impersonating Elvis Presley and instead create and perform his own music. However, he did what he felt was right for him and wound up landing his dual role in THE IDENTICAL.
Cottrell had a different experience in pursuing her dreams. She says, "I felt lucky to have lots of support from my family," but it was other outside factors that would "push back, like worrying about making enough money" or thinking about how this path "is going to be very trying on your soul."
Yet, both have found success in following their dreams. Perhaps Ray Liotta's character in THE IDENTICAL said it best, "Our job is to be who He made us to be."
Article by Kim Frauli
Kim Frauli is a wife and stay-at-home mom of three beautiful children. She spent several years in marketing and communications for non-profit organizations, including serving as editor-in-chief of a Catholic hospital's health magazine. She took a break from full-time work in 2009 to focus on family and volunteer work, but she continued to work on freelance projects. She has served as a Sunday School superintendent and teacher, PTO president, St. Paul Booster Club officer, Girl Scout troop co-leader, youth sports coach and Woman's Club president, in addition to chairing various events for church and schools. Kim and her family live on a rural Midwestern farm with plenty of animals, including horses and cows. In addition to writing, Kim's other interests include reading, cooking, going to the movies, and cheering on her children at their various activities.