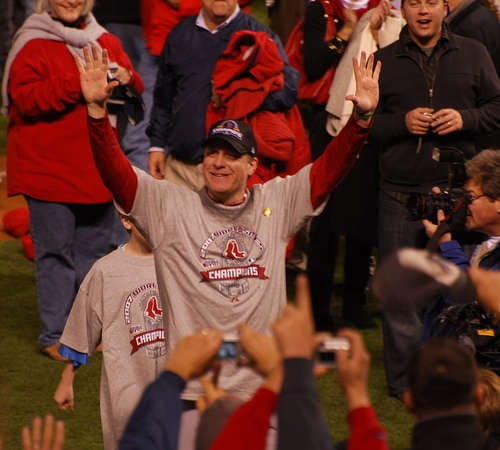 In sports today, we often see the classic case of fame and fortune turning to sin and legal trouble for many of the biggest stars.  Fortunately there are still a lot of sports figures that are worth following and admiring.  While there are plenty more than what you'll read below, this is a list of 7 of my favorite delivering the message of the good news.
7.  Benson Henderson
UFC(Mixed Martial Artist)
We will start our list off with a mixed martial artist who has recently been making headlines.  He is the UFC lightweight champion of the world and has defended that crown twice now and remains undefeated inside the octagon.  Benson  was the main event in the recent UFC on FOX national broadcast.  A broadcast which ranked in the top ten of most watched fights in television history.  He defeated Nate Diaz to remain the champion and in the cage for the post fight interview started his comments by glorifying God, "I can do all things through Christ who strengthens me.' Can I get an amen?"  Henderson said to the 14,000 in attendance and the millions more watching worldwide.  "Bendo" was also quoted as saying,"For me it's more of just a daily walk. It's what I do every day, it's not really about putting on a show ... It's about your daily walk with the Lord, and I'm not ashamed to wear it on my sleeve,"
Memorable Moments- Benson has had a lot of highlight moments in his career but the night when he won the title is what stands out to me.  Looking like a man possessed he wore out the guy that was suppose to be impossible to wear out, he was faster than the guy he wasn't suppose to be faster than.  It was UFC 144 in Japan and Benson Henderson was named the New Lightweight Champion of the World.
6. Curt Schilling
Boston Red Sox(Pro Baseball)
One of the biggest reasons I am a Red Sox fan is this man right here.  Curt Schilling is a 3 time World Series champion.  He got his first ring in 2001 with the Arizona Diamondbacks after they somehow held on and closed out the "Post 9/11" Yanks, who seemed to be able to pull off miraculous comebacks every night riding a wave of emotion following the tragic events of September 11th.  Curt actually won the Co-MVP award along with fellow ace pitcher Randy Johnson.  Curt went on to win 2 more World Series rings with the Boston Red Sox.  The first of those came in 2004 when they made it to the World Series by pulling off the biggest comeback in the history of "America's Pastime" by coming back from losing 3 games to 0 in the ALCS.  They would go on the most memorable run of all time still to this day, winning 8 games in a row and taking the World Championship.   Curt was still on the team when they made another amazing run all the way to the World Series and Swept the opposing team again, this time against the ultra hot Colorado Rockies, Curt would retire on top after this season.  During his playing days Curt believed in making time for regular scripture reading as well as participating in online bible studies.
Memorable Moments-  Curt pitched 2 critical playoff and World Series games with an experimental suture that was used in connection to his torn ankle tendon.  The Most famous would be game 6 against the Yankees in the midst of their historic comeback Curt stole the show and the game.   Many times it looked as if Curt shouldn't be able to perform, let alone at the highest level, but batter after batter were retired.  It is often remembered as " The Bloody Sock Game" , after which Schilling said "Tonight was God's work on the mound.  God did something amazing….I went to the Lord for help, because I knew I wasn't going to be able to do this by myself."
5.Kurt Warner
St. Louis Rams(Pro Football)
Kurt Warner has one of if not the biggest "rags to riches" stories.  Inside of one year he went from stocking shelves in Iowa to NFL and Super Bowl Mvp and Champion.  He would go onto later appear in two more Super Bowl's while failing to win the games still cemented record performances as the quarterback once for the St. Louis Rams and once for the Arizona Cardinals.  Warner has always been very outspoken about his faith in pre and post game interviews.  Always trying to glorify the Father in his work.  Kurt married his wife Brenda in 1997 and he adopted her 2 children from her first marriage and they went on to have 5 more of their own.  They are both evangelical Christians and do lots of missionary work.
Memorable Moments- Two phenomenal stats that jump out about an illustrious career with so many record seasons , first would have to be the fact that if you look up most passing yards by a quarterback in a Super Bowl you will find Warner in the 1, 2, and 3 spot.  He has 3 Super Bowl appearances and he has the top 3 passing games all time.  Secondly would be his overall 1999 season which led to his subsequent Super Bowl victory.  Joined by Marshall Faulk, Torry Holt, Isaac Bruce, Ricky Proehl, and others they were known as " The Greatest Show on Turf".
"The Truth" Matthew 6:33 But seek first the kingdom of God and his righteousness, and all these things will be added to you.
4. Tim Tebow
New York  Jets(Pro Football)
Tebow is a 2 time BCS National Champion, he is the 2007 Heisman trophy winner, he was a first round draft pick in the 2010 NFL draft, and most importantly to Tim he is an evangelical Christian.  Tim has done missionary work abroad in the Phillipines such as supporting in medical care and preaching the Gospel to schoolchildren.  Domestically Tebow has given speeches in schools, churches, youth groups, prisons, and conferences.  Tebow had an explosive season with the Denver Broncos even winning a playoff game, but with the arrival of Peyton Manning to Denver Tebow was subsequently traded to the New York Jets.  After spending an entire season on the bench and in the midst of a 3 way quarterback controversy, rumors are swirling of a possible return to his home state of Florida at the healm of the Jacksonville Jaguars.
Memorable Moments- In College during his senior year Tebow had high hopes of a perfect season.  After a loss to Ole Miss 31-30, Tim gave a now classic speech after  the game saying he wanted the loss to stay in their hearts and motivate them, vowing that he would be the leader to get everybody to play harder through leading by example.  They never lost another game and won the National Championship.  Professionally Tebow's biggest moment was his overtime touchdown pass on the very first play that eliminated the Steelers.
3. Josh Hamilton
Texas Rangers(Pro Baseball)
Josh Hamilton is a great example of a Christian with addiction problems who continues to fight with passion his affliction.  When he realized he was so deep into his chaotic lifestyle he called on God and surrendered to Jesus.  Josh's story reminds us that there is an enemy out there who wants to separate us from God.  Watch this video of Hamilton's testimony of coming to Christ.  Josh called upon a strong bible verse from the New Testament which you'll see listed below.
"The Truth" James 4:7 Submit yourselves therefore to God. Resist the devil, he will flee from you.
Memorable Moments- Hamilton's moment in the spotlight came in the 2008 Home Run Derby when he hit a record first round 28 Homeruns.  Josh went on to hit 35 Total but because of the way the rounds are set up lost the trophy to Kevin Morneau.  Hamilton's 28 remained the headline story at the event however.
2.  Fedor Emelianenko
M-1 Global(Mixed Martial Artist)
Fedor as he is known by the masses is also considered the greatest fighter of his time. Fedor has been quoted as saying that his faith is the most important thing to him.   Fedor went his entire career without ever losing(with the exception of the cut DQ from 2000)until June 2010.  By this time Fedor has accumulated over 30 professional victories with many of them coming by way of knockout and submission.  Considered then to be the greatest fighter of all time and given the moniker "The Baddest Man on the Planet", he would remain undefeated until that fateful June day when Fabricio Werdum caught Fedor in the triangle submission. Fedor would surviv some 36 seconds being locked in the hold and wavering on the brink of  tapping until finally succumbing to the  squeeze of the submission hold.  This would forever change the landscape of MMA.  Very similar to the way boxing changed when Mike Tyson was knocked out after having that "aura of invincibility" for  the better part of a decade.  Once these icons fall for the first time they are never  the same again because their opponents now feel they have lost their mystique and are beatable.  Fedor was always stoic in his decade long win streak and even in defeat remained just as stoic congratulating Fabricio and saying" the man who never falls down, never stands up."  Fedor is a russian Baptist orthodox and attends church, before each fight he famously comes down the aisle quietly looking at the ground.  When asked what he is doing, he said he is praying to God the whole time leading up to the fight.   Fedor  retired in June 2012 and is considered by most to be the greatest heavyweight of all time.
Memorable Moments- My Favorite Fedor moment is when he fought Brett Rogers on CBS national coverage because it was such a good fight with Rogers(undefeated at the time)who roughed up Fedor until he was able to make a comeback winning by knockout.  After the fight Fedor thanked all his fans especially those who were praying for him, he called it their "mutual victory".
1.Ray Lewis
Baltimore Ravens(Pro Football)
Ray Lewis plays the game of football with an unmatched passion and intensity.  Now in his final season as he has declared his intention to retire after the 2012 season, has 17 years under his belt and still performs at the highest levels.  He was recently featured on the NFL Network's "A Football Life" which showed Lewis leading prayer in his home as well as at homes he would visit.  Making special trips to people to show them and tell them about the love of Christ.  Even on the sidelines cameras caught him audibly talking things out with Jesus.  He is a great role model who will be sorely missed in the league.  Perhaps he can still reach one more Super Bowl before the end of his storied career.
Memorable Moments- No doubt about it for Ray Lewis his apex year came in the 2000 season as his defense set the all time record for fewest points allowed in a season.  And coming off the heightened drama of his off season court case and making it to the Super Bowl, he played with such great emotion and success that he was named the games MVP after his team won.  Making him only the fourth defensive player ever to win the award.
"The Truth" Philippians 4:13 I can do all things through him who strengthens me.
Conclusion
I am a big fan of all 7 of these athletes, let me know in the comments if you are a big fan of any of these or other Christian athletes you follow.  I hope you have enjoyed this list, God Bless You!
Resources
photo credit: Eric Kilby via photopin cc
The Holy Bible, English Standard Version
"Scripture quotations are from The Holy Bible, English Standard Version® (ESV®), copyright © 2001 by Crossway, a publishing ministry of Good News Publishers. Used by permission. All rights reserved."