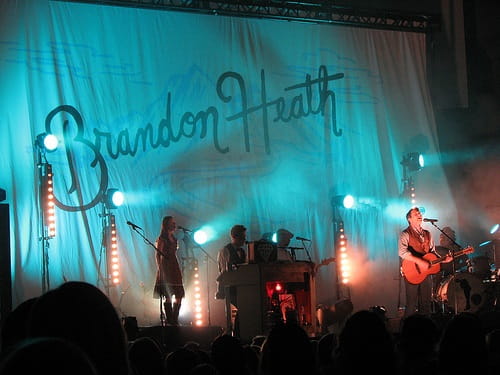 Brandon Heath is an award-winning contemporary Christian music star.  He has released 4 studio albums since debuting in 2006.  He has won 6 DOVE awards and been nominated for over a dozen more from various award shows including Grammy nominations.  Born in music city Nashville, Tennessee, Heath at one time moved to Texas and spent a year being a worship leader at Woodlands United Methodist Church.  Although he would ultimately move back to Tennessee to focus more on his career he said he still feels at home in Texas and goes back to visit when he can.  Brandon's most recent album titled "Blue Mountain" has it's first hit single "Jesus in Disguise" playing on the radio now.  As for the career of Brandon Heath below is a compilation list of the top 8 hits of all time from the budding star Brandon Heath.
8. Give Me Your Eyes
Album- "What if We"
Favorite Lyrics: "Looked down from a broken sky, traced out by the city lights. My world from a mile high.  Best seat in the house tonight.  Touch down on the cold black top, hold on for the sudden stop.  Breathe in the familiar shock of confusion and chaos.  All these people going somewhere why have I never cared.  Give me your eyes for just one second, give me your eyes so I can see."
7. I'm Not Who I Was
Album- "Don't Get Comfortable"
Favorite Lyrics:  "I wish you could see me now.  I wish I could show you how I'm not who I was.  I used to be mad at you.  A little on the hurt side too, but I'm not who I was.  I found my way around to forgiving you.  Some time ago.  But I never got to tell you."
"The Truth" Psalm 18:30 This God-his way is perfect, the word of the Lord proves true; he is a shield for all those who take refuge in him.
6. Leaving Eden
Album- "Leaving Eden"
Favorite Lyrics: People are losing their homes to hurricanes.  One more step away.  Old lady living next door forgot her own name.  One more step away.  A teacher is hiding her Bible but at least she's got a job.  One more step away.  My local salvation army just got robbed.  Feels like I'm leaving Eden."
5. Jesus In Disguise
Album- "Blue Mountain"
Favorite Lyrics: "Ever get something in your head, it's nothing you heard or something you read.  Ever had a cut but you never saw the blade.  Brought to your knees, but you never prayed.  Jesus in disguise, Jehovah passing by, the burden of a tear, hanging in your eye.  Jesus in disguise, a scar across the sky.  You were looking for a King you would never recognize."
4. Follow You(featuring-Leeland)
Album- Leeland's "Love is on the Move"
Favorite Lyrics: You lived among the least of these, the weary and the weak.  And it would be a tragedy for me to turn away.  On my knees you have supplied.  When I was dead you gave me life.  How could I not give it away so freely.  I'll follow you into the homes of the broken, I'll follow you into the world."
3. The Light In Me
Album- "Leaving Eden"
Favorite Lyrics: "Not since you gave me your life.  Something was different, I knew it the instant you put the light in me.  The spark, the shot to the heart.  You are the hope that leads me out of the dark.  You let your love shine down so that the world can see, you put the light in me."
2. Wait And See
Album- "What if We"
Favorite Lyrics: "I never really was that good in school, talked too much, broke the rules.  Teachers thought I was a hopeless fool alright.  I don't know how but I made it through.  It's one of those things that you gotta do.  I've always had a nack for telling the truth.  There is hope for me yet.  Because God won't forget all the plans he's made for me.  I'll have to wait and see."
"The Truth" 1 Corinthians 13:13 So now Faith, Hope, and Love abide, these three; but the greatest of these is Love.
1. Your Love
Album- "Leaving Eden"
Favorite Lyrics: "I felt it first when I was younger.  A strange connection to the light.  I tried to satisfy the hunger, I never got it right, I never got it right.  So I climbed a mountain and built an altar looked out as far as I could see.  And every day I'm getting older, I'm running out of dreams, I'm running out of dreams.  But your love, your love, the only thing that matters is your love."
Conclusion
Brandon is not only a huge popular star in the singing industry, but he's also a talent when it comes to songwriting which is why he will be around for a long time to come in the music 'biz'.  Currently Heath is touring on the "3 In 1 Tour" with Mandisa and Laura Story.  This concert partners with "Food For the Hungry" and it offers a unique experience with 3 award winning artists.
Please share below if I missed any hits from Brandon Heath and let us know if you found this list informative.  God Bless!
Resources
photo credit: ruthdaniel3444 via photopin cc
The Holy Bible, English Standard Version
"Scripture quotations are from The Holy Bible, English Standard Version® (ESV®), copyright © 2001 by Crossway, a publishing ministry of Good News Publishers. Used by permission. All rights reserved."