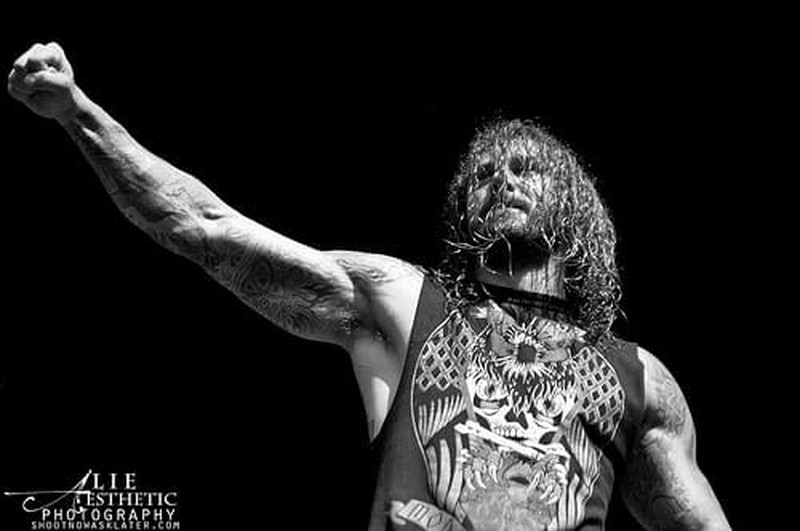 As I Lay Dying is one of the top metal bands of today.  They have released 6 studio albums and they keep getting better.  They were founded in San Diego, California by their singer, Tim Lambesis in 2000.  They are very heavy and their lyrics are all Christian, as they tackle issues like abortion and regrets from mistakes.  Here are the top 10 best As I Lay Dying songs ever!  If you have any suggestions, please feel free to tell me your favorites.
94 Hours
This is the first song off of the album Frail Words Collapse.  This was the first song I heard by them and I have been a fan ever since. This song is about realizing that we so easily can hurt other people.
Favorite Lyric – "The torment of your eyes has awakened my soul."
Through Struggle
This song shows how when we struggle, we learn and grow.  It has a very heavy breakdown at the end of the song, which makes this song a favorite for many.
Favorite Lyric – "Only through struggle have I found rest.  With a piece of me taken away, I begin to understand love."
1 Peter 5:10 – And after you have suffered a little while, the God of all grace, who has called you to His eternal glory in Christ, will Himself restore, confirm, strengthen, and establish you.
The Darkest Nights
This is a song of redemption.  It tells of how a man has been brought back to life and is now focusing on Christ to carry him through the darkest nights.
Favorite Lyric – "But you brought an end to this dead hour and meaning to a calloused life."
Isaiah 41:10 – "Fear not, for I am with you; be not dismayed, for I am your God; I will strengthen you, I will help you, I will uphold you with my righteous right hand."
Cauterize
This is a song off their latest album, Awakened, released in September of 2012.  It is about a man who is apathetic and numb, who gives his life over to Christ so that He can cut out the bad (sin) that is in him.
Favorite Lyric – "I'm caught between the feeling of being pulled apart or stuffed into a cell."
Nothing Left
This is a song about how the world of "self" has been self-destructive and that there is nothing left, yet the singer still hopes that there can be change.
Favorite Lyric – "Lips of splendor and tongue of deceit, all dying now as our fragile wrists hold only waste."
Comfort Betrays
This is a song about a man who almost dies from the bad decisions that he had been making.  While he was making these decisions, his so-called "friend" sat back and watched him almost die because he thought it would be better if he was gone.  This song has an epic solo and heavy breakdown at the end!
Favorite Lyric – "And now your love means nothing to me.  You are a coward, the antithesis of a friend."  Sometimes we have to let go of those who don't care about us.
Proverbs 4:14-15 – "Do not enter the path of the wicked, and do not walk in the way of evil.  Avoid it; do not go on it; turn away from it and pass on."
Parallels
This is the perfect song for all Christians.  We all live in a world of "self" and "servant".  We can't live in both at the same time.  We have to choose to be servants instead of pleasing ourselves.  There is an awesome solo in this one also.
Favorite Lyric – "I am a walking contradiction that's found consistency; consuming everything, all without producing sustenance."
Matthew 6:24 – "No one can serve two masters, for either he will hate the one and love the other, or he will be devoted to the one and despise the other."
Condemned
This song touches on the sensitive area of abortion.  Abortion is murder in God's eyes and this band is defending the unborn.  It is nice to see bands out there defending those helpless little ones.
Favorite Lyric – "Condemned without given a chance to speak.  Without acknowledgment they're made less than human."
Resilience
This song is also off of the latest album, Awakened.  It is heavy and melodic.  This song is a dedication to all of the mentors out there.  Your acts of service for the kingdom are greatly appreciated.
Favorite Lyric – "I'm better able to live because you are alive.  I could not imagine a world without you."
Anodyne Sea
This is a song about the reality of being a Christian.  Many times in this world, we walk alone because our words fall on deaf ears.  This is when we must stay strong and walk tall, even in the midst of all of the chaos.
Favorite Lyric – "Stand on conviction and you'll walk alone."
Matthew 5:11 – "Blessed are you when others revile you and persecute you and utter all kinds of evil against you falsely on my account."
Conclusion
These are only 10 of the amazing songs by As I Lay Dying.
I would love to hear what your favorites are.  God bless you all!
Resources:
photo credit: Alie Krohn Photography via photopin cc
The Holy Bible, English Standard Version
"Scripture quotations are from The Holy Bible, English Standard Version® (ESV®), copyright © 2001 by Crossway, a publishing ministry of Good News Publishers. Used by permission. All rights reserved."
www.youtube.com