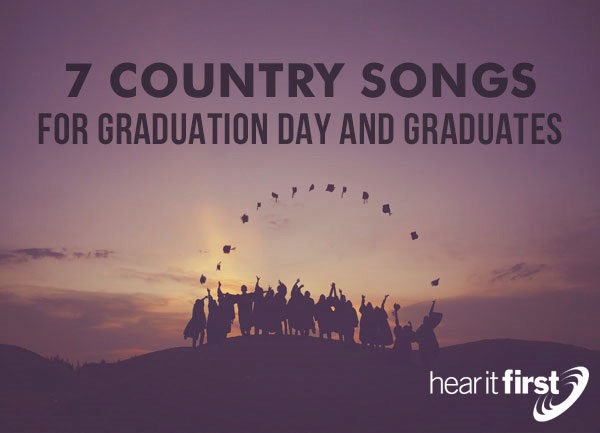 Here are seven great country songs for a graduate on graduation day.
Don't Blink by Kenny Chesney
Don't Blink, by Kenny Chesney, reminds me of what people used to say about the small town I grew up in. When people drove through town, we'd say, "Don't blink, or you'll miss it." That's the idea behind this song from Kenny Chesney. It seems that life goes by in the blink of an eye. That's what it must seem like to the parents of a graduate and certainly school must now be seen to be the same way for the graduates. In seeing a news story about a man turning one hundred and two year's old, the man said that the key to a long life is "don't blink," because, "Just like that you're six years old and you take a nap and you. Wake up and you're twenty-five and your high school sweetheart becomes your wife." The lesson is, don't blink, because "You just might miss your babies growing like mine did. Turning into moms and dads next thing you know your "better half." Life is like a vapor; it's a morning mist, quickly burned away by the sun, and then it's gone, so "Don't blink."
Laughed Until we Cried by Jason Aldean
The song, Laughed Until we Cried, by Jason Aldean, is like someone who's arrived at a destination (adulthood) and is reminiscing about all the stops along the journey. In looking back, they remember, "We talked, and drank, and danced, and said goodbye. We laughed until we cried," saying "Oh man, we were livin'. Sittin' there reminiscin'. We sang, and talked, and traveled back in time. We laughed until we cried." What friend can't identify with the former days as being, "Every emotion rolled into one. A little of this, a little of that. Kinda happy, kinda sad." Life sounds a lot like a roller coaster because there's a lot of "Kinda happy, kinda sad," sort of up and sort of down.
I Hope You Dance by Lee Ann Womack
The song, I Hope You Dance, by Lee Ann Womack, is a great song for a lot of reasons, but for the graduate, it seems very fitting, as she sings, "I hope you never lose your sense of wonder. You get your fill to eat but always keep that hunger. May you never take one single breath for granted. God forbid love ever leave you empty handed." Listen to the message the graduates can hear: "I hope you never fear those mountains in the distance. Never settle for the path of least resistance. Livin' might mean takin' chances, but they're worth takin.'" What a positive message for the graduates who are just now embarking on a whole new journey…the journey they call "life."
You're Gonna Miss This by Trace Adkins
It seems that we don't value people until they're gone. That's when we miss them, when it's too late, but the same could be said about each day of our life, as Trace Adkins sings, "You're gonna want this back. You're gonna wish these days hadn't gone by so fast. These are some good times. So take a good look around." It's as if he wants us to cherish the very moment were in …the "right now" of life, and fathers, before we know it, "she's a brand new bride…In her one-bedroom apartment," and "Starts talking about babies and buying a house. Daddy shakes his head and says "Baby, just slow down." Even today, how many of us can say, "You're gonna wish these days hadn't gone by so fast?"
My Wish by Rascal Flatts
My Wish, sang by Rascal Flatts, is a powerful song about the future, because that's what graduation day is all about. They sing, "I hope the days come easy and the moments pass slow, And each road leads you where you wanna go," and as if a parent is giving a graduate advice, sings "And if you're faced with a choice, and you have to choose, I hope you choose the one that means the most to you, And if one door opens to another door closed, I hope you keep on walkin' till you find the window." This may be the wish for every parent, that their child's "dreams stay big," but "your worries stay small." What more could you desire for a graduate than this?
Don't Forget to Remember by Carrie Underwood
Don't Forget to Remember, by Carrie Underwood, is a description of a mother saying goodbye to her daughter, and as they "Both tryin' not to cry…she took my hand and said, 'Baby, don't forget to remember me." A parent's job is to prepare their children for a future and to live a life of independence from the family. Not that they ever break free from their family, but they are now an adult and they're ready to enter the world as one. That doesn't mean being disconnected from a parent's help when it's needed, as where the mother's says, "Before you hit the highway, You better stop for gas, There's a fifty in the ashtray, In case you run short of cash," and relating to her daughter's path, "Here's a map, and here's a Bible, If you ever lose your way," and in closing, "make sure you tell daddy. That I'm still his little girl."
Wide Open Spaces by the Dixie Chicks
The song, Wide Open Spaces, by the Dixie Checks, is about someone who's about to leave the nest and spreading their wings to take flight. Thus, it makes it a very suitable country song for graduation day for the graduate. This song asks, "Who's never left home, who's never struck out. To find a dream and a life of their own. A place in the clouds, a foundation of stone." The young woman who graduates "needs wide open spaces. Room to make her big mistakes. She needs new faces. She knows the high stakes," but the graduate can say, "She traveled this road as a child. Wide eyed and grinning, she never tired. But now she won't be coming back with the rest. If these are life's lessons, she'll take this test." The wisdom in these lyrics, like leaving room for "big mistakes" and knowing the stakes are high, she finally realizes "she won't be coming back with the rest," but facing "life's lessons, she'll take this test," and hopefully pass with flying colors.
Conclusion
If you have a graduate who loves country music, I believe these seven songs would be suitable for them. Perhaps you can think of another country song that would be appropriate for the graduate on graduation day. If so, please feel free to suggest it and we can see if we haven't missed a song we should have included. Graduation day is one of the most exciting days in a person's life, but it can also be one of the most worrisome. Let these songs encourage you, if you're a graduate, because life is like a vapor. Don't blink or you might miss it.