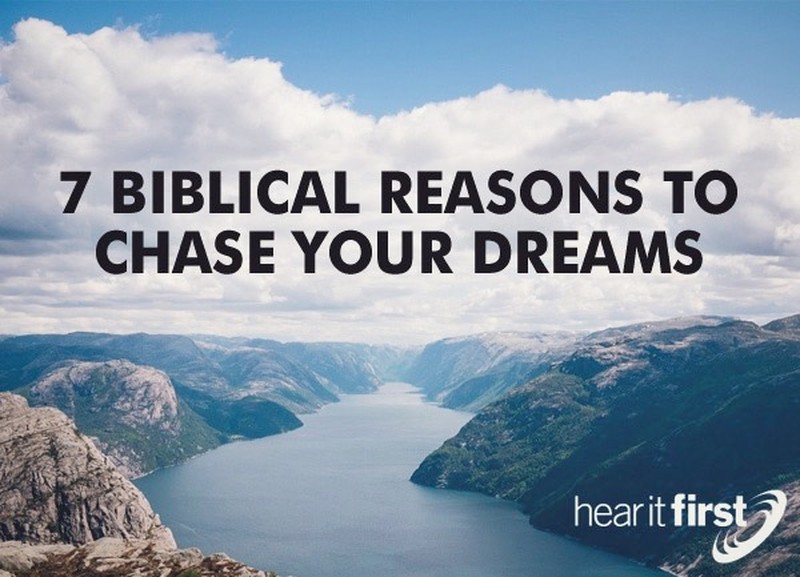 Many people spend a lifetime chasing after dreams—only to find emptiness in its accomplishment. Others never quite make it to their dreams and resign themselves to failure. Dream chasing is only relevant if it's rooted in God's calling on your life. When God sparks a dream in your heart, you won't be able to let it go—you will chase it until God's purpose has been fulfilled. We can learn 7 Biblical reasons to chase our dreams from the life of David.
#1) God chooses you for this dream.
"For we know, brothers and sisters loved by God, that he has chosen you" (1 Thessalonians 1:4).
David was minding his own business with the sheep out in the field and before he knew it—he was chosen to become the next king of Israel. David was immediately filled with the Spirit of God with great power. Before this significant event, David was oblivious to God's dream for him. We, too, can be awakened to a greater purpose for our lives when God chooses us. (1 Samuel 16:12-13
#2) God supernaturally gifts you with what you need for the dream.
"A gift opens the way and ushers the giver into the presence of the great" (Proverbs 18:16).
Not only did David kill a lion and a bear with his own hands, but he also took down a great warrior with a sling and a stone. Instantly he became a famous celebrity in Israel leading a thousand men in battle and marrying the king's daughter. When we are gifted for the dream, the Lord allows a season of sensing great expectations from within and around us. (1 Samuel 16:18, 17:34-37; 18)
#3) God allows trials to test your dream.
"Because you know that the testing of your faith produces perseverance" (James 1:3).
David wasn't long into his celebrity status before King Saul wanted to kill him. In a very short time, he was yanked from his brief charmed life to being a man on the run. He had to live with the responsibility of priests being killed because of him, his wife was given to another man, his family was displaced, and he was surrounded by discontented men. During this time, David learned to trust in God and receive strength even when times were difficult. Oftentimes, in our dream chasing, we will have times of trouble; yet this increases our dependency on God and we come to know Him more intimately. (1Samuel 19-30:6).
#4) God provides for you in the journey towards your dream.
"Now may the God of peace…equip you with everything good for doing his will, and may he work in us what is pleasing to him" (Hebrews 13:20-21).
David was far from the comforts of his home and the king's palace when he was on the run. He had to learn how to navigate his way through treacherous territories and the Lord always provided a place for David to hide. He was provided food and provisions through Abigail, his future wife. When Saul was close to capturing David, the Lord provided the distraction with the Philistines in battle. God knows what we need and when we need it when we are making our way towards our dream. (1 Samuel 22:5, 25:18)
#5) God gives you direction on how to go about your dream.
"I will instruct you and teach you in the way you should go; I will counsel you with my loving eye on you" (Psalms 32:8).
Through Abiathar, the one priest who escaped death, David was able to consult God through the ephod. With God's guidance David was able to navigate his journey knowing where to hide and who to trust. The Lord was always guiding David to where he needed to be. We must also grow up in our faith to trust in His direction through the dark pathways of life. (1 Samuel 23:6, 12-14).
#6) God confirms your dream through other people.
"Therefore, my brothers and sisters, make every effort to confirm your calling and election" (2 Peter 1:10).
David received affirmation of his dream through many different people. Samuel, Jonathan, Saul's son, and Abigail all affirmed that David would be the next king—even when he was still running for his life. Many times the Lord will put people in our lives who recognize the giftedness from God. We are encouraged by their words to keep moving forward in spite of the trials along the way. (1 Samuel 23:17; 25:28)
#7) God follows through with your dream in His timing.
"Being confident of this, that he who began a good work in you will carry it on to completion until the day of Christ Jesus" (Philippians 1:6).
David began his journey as a lowly shepherd—not even counted as worthy for the dinner invite of a prophet's visit. Yet he ended his journey as one of the greatest kings in Israel and a part of the royal lineage leading to King Jesus. How many times in the wilderness would David had wondered if the dream would ever come true? Yet through the battles, treachery, and heart ache—he persevered to accomplish his dream. We must also trust on God's promises to fulfill His purposes through us. (2 Samuel 7:1).
Chasing down the Dream
David wasn't perfect before, during, or after he was crowned king; however the Scriptures affirm that he was a man after God's own heart (Acts 13:22). David was faithful tending the sheep when God planted the seed of purpose in his heart. We can be faithfully going about our daily business when God suddenly awakens our hearts to a greater purpose. The chasing of our dreams will be filled with moments of joy and sorrow—yet it will be worth it when we receive the crown of life from our Savior.
Article by Crystal McDowell
Crystal McDowell is a writer, speaker, and teacher with a passion to encourage believers to know and grow in their relationship with Jesus Christ through practical application of God's word.
Crystal and her husband, Marshall, raise their five children in the Bloomington, IL. As a freelance writer and editor for over 13 years, Crystal has published numerous Christian curriculums for Sunday School and VBS as well as many articles dealing with marriage, motherhood, and relationships. She's a weekly staff writer for www.whatchristianswanttoknow.com as well as writing her own blog at http://crystalmcdowellspeaks.blogspot.com.