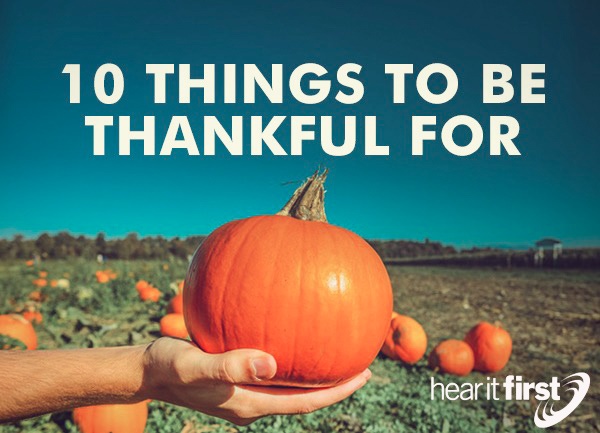 During this holiday season we really do have so much to be thankful for although some might find it challenging to see. For so many of us, life is hard and seems unfair. Christ-centered music and the right focus can help us to see things a bit differently. Whether life is hard or life is good, there is always something or something more to be grateful for – and gratitude grows.
Here are 10 songs that point to 10 things we can be thankful for. Let them help you continue on or offer you a starting place to begin your journey of gratitude.
1. Jesus' Sacrifice
At The Cross (Love Ran Red), Chris Tomlin
When love ran red on the cross, when Jesus offered Himself as a sacrifice, you were given grace, mercy, forgiveness, and the hope of eternal life. The things of this earth can seem hopeless without the perspective of what Jesus sacrificed At The Cross. There would be nothing to be thankful for without the cross but there is everything to be thankful for because of the cross.
2. God's Word
Your Words, Third Day featuring Harvest
Mac Powell boldly sings of the power of God's voice through His Word, the Bible. "Your words bring life. Your voice speaks promise. Lord, Your love offers more than anything else in this world." You can be thankful that God's voice is louder than the distractions of this world. Louder than all the other voices you hear throughout your day. The strong foundation of God's Word is something to be thankful for.
3. Family
Family, TobyMac
Holidays are tough for some of us. So many marriages and families are hurting and the holidays seem to exaggerate the brokenness. Allow this song from TobyMac to help you believe in family again. To go from thinking of leaving to wanting to stay. May these words and music encourage you to fight for what you believe and to be thankful for the hope of restoration, for the blessing of family.
4. Grace
Grace Wins, Matthew West
When people in your life are disappointed in you and you feel disgraced, God offers grace. Matthew West sings of a victorious grace for the prodigal son, the woman at the well, the lost out on the street, for the thief, a grace that is for everyone, for always and forever. God sees through your pain, shame, doubt, defeat. You can be thankful that Grace Wins every time.
5. God's Love
The Proof Of Your Love, for KING & COUNTRY
Freedom, sacrifice, love, life… these are words that ring out in this song by for KING & COUNTRY. In a world where love can seem illusive at best, this powerful song portrays the proof that even if all over love fails you, God's love remains. This is something to be thankful for!
6. Your Children Growing Up
Slow Down, Nichole Nordeman
If you're a parent, this song will tug at your heart strings. You invest so much of yourself in your children and then they off and grow up. It's right but right isn't always easy. Nichole Nordeman takes you down this bittersweet road of motherhood. Some of these moments you want so desperately to slow down but you must be thankful that they are growing up. She encourages you to breathe in these precious moments with your children and be thankful for each one before they're gone.
7. Nothing Is Impossible Through God
Impossible, Building 429
Perhaps impossibilities are not a typical thing to be thankful for. Perhaps being thankful for impossibilities is a bit unusual. To be thankful for something that seems unreachable is somewhat unfathomable. Let this fun song inspire you to dance a little and believe that "there's no such thing as impossible" through God. God is the God of miracles. You can be thankful for the all that is not impossible through Him.
8. God Is Our Strength
Just Be Held, Casting Crowns
Imagine when you were a child and you climbed up in your parents lap. They stretched out their arms to help you up and they held you. Just held you. Jesus, in all of His glory of the throne, humbly and lovingly offers for us lay it all down at His feet and climb up. Let His stretched out arms wrap around you and just hold you. Be thankful today that you are not alone. Be thankful today that you can Just Be Held. Be thankful today that God is your strength as you find rest in Him.
9. God's Faithfulness
10,000 Reasons (Bless The Lord), Matt Redman
The sun coming up bringing a new day, the ability to praise our Creator… The Lord is faithful in so many ways. There are 10,000 reasons to be bless the Lord. 10,000 reasons to be thankful. They are in your past, in your present and in your future. God's faithfulness is forevermore. Worship His Holy Name with gratitude.
10. Redemption
Redeemed, Big Daddy Weave
Can you be thankful for pain? Can you be thankful for failures in your past? Can you be thankful for the struggle? Mike Weaver of Big Daddy Weave sings of redemption as if you can. Our past is a part of our present. You can learn from it and be thankful for the growth it has produced. Above all, you can be thankful for God's perfect plan of redemption. Be encouraged to "Stop fighting a fight that's already been won."
Through redemption, grace, strength, family, the power of God's word and victory from the cross, these 10 songs offer encouragement and inspiration we need to be grateful. It may sound cliché' but we truly do have so much to be thankful for. We simply need to open our hearts to see them.
Article by Andrea Stunz
I'm a born-and-raised Texan who enjoys any adventure that requires a passport. As a Christ-following pilgrim, I'm a lover of stories and a connoisseur of sunrises and coffee - best when served together. I listen to a wide range of musicians with Andrew Peterson, Jimmy Needham and Bethel Music being just a few of my favorites. When I'm not writing, you'll find me in the kitchen or spending time with those I love.