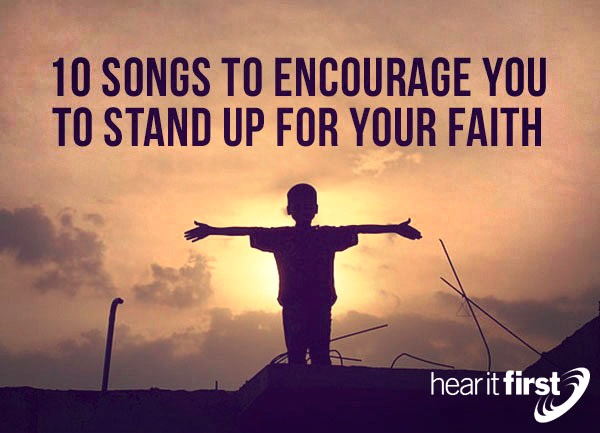 How often do you feel insecure about standing up for your faith? These 10 songs will encourage you to boldly share your faith at work or school, in your neighborhood or another country. Once you've tapped into the truth of all that God has done for you and realize how desperately the people around you need His love and hope for eternal life, you can share His love with a fierce resolve. Let these songs become your fight songs to join the battle and stand up for your faith.
1. Guilty, by Newsboys
This track is featured in the upcoming movie, God's Not Dead 2. It will encourage and inspire teenagers to not worry about what others think, to trust what they know to be the truth and boldly live out and share their faith in their school.
"If saying I believe is out of line

If I'm judged cause I'm gonna give my life

To show the world the love that fills me

Then I want to be Guilty" ~Newsboys
2. Sold Out, by Hawk Nelson
When most people in our world are buying in to all things that won't last, this song encourages you to be sold out to all things opposite of worldly pleasures. Realizing that the battle has already been won and you're not living for yourself, you can confidently put on your war paint and say without hesitation,
"I'm ready to shout, I'm sold out!" ~Hawk Nelson
3. Shake, by MercyMe
After listening to this song, standing up for your faith will be something you can't help but do. Shake inspires transformation and encourages you to live like you mean it. And while you're standing, you might as well dance a little.
"Great God Almighty, He done changed me." ~MercyMe
4. When The Saints, by Sara Groves
Envision marching with an army of Believers who have gone before you. Those who have fought the fight. Those who have won the battle. When we consider joining the ranks with the Saints like Paul and Silas, Moses, the slave, the girl in the brothel… those who have paved the way for us, we can be encouraged to stay strong in sharing our faith even when we are weary.
"But when I think of all who've gone before and lived a faithful life, their courage compels me." ~Sara Groves
5. World Changers, by Audio Adrenaline
What is broken will be redeemed. It's up to our generation to carry that message and to change the world. To realize all that has been done for us gives us the encouragement we need to be doers of the Word and not just hearers. Once we've experienced being changed we will not be kept silent about it.
"How can we be silent when we know the One who saves?" ~Audio Adrenaline
6. Here For A Reason, by Ashes Remain
It's often a challenge to remember why we're here. We get caught up in the daily grind and forget what our purpose is. What we, as Believers, are called to do. Ashes Remain encourages us in Here for A Reason to remember that even through our hard times, we woke up today and we are breathing for a reason.
"When you feel useless, He can use you." ~Ashes Remain
7. Dive, by Disciple
This scaled back acoustic version of Dive offers renewed strength and hope for the reaping. Disciple encourages you to fly high with your broken wings and dive. Believe what God can do with your act of obedience can give you the courage to stand strong in your faith.
I'll run and not grow weak
Walk and will not faint
Climb the highest mountain to dive off. ~Disciple
8. What We're Here For, by The Afters
Simply stated… because He did, we can. We are here to love, to fight, to overcome. Because He loved, because He fought and because He overcame. We can boldly stand up for our faith, realizing that is what we're here for because that is what He is here for.
"To give, to love, to be the ones to show that you have overcome the dark,
The night, the pain we fight...that You are alive.
This is what we're here for. " ~The Afters
9. Silver In Stone, by John Tibbs
When we know what He can do and we trust in the security of his promises, we can be encouraged to remain faithful. In the refining process of our prodigal ways, He finds silver in stone. If He can do that for anyone, He can do that for everyone. That is a hope worth standing up for.
"I hold on to the promise that you'll never run. You'll see it through until your work is done. Oh, you'll never let me go." ~John Tibbs
10. Evidence, by Citizen Way
Living out your life in love, with helping hands, and sharing your story with others can make a strong impact on bringing someone to faith in Christ. Love, Christ's love, is all the evidence we need to stand up and share our faith. Love is all the evidence others need.
"Mercy and grace and compassion, they're only words without action. I need hands that are open reaching out for broken heart. 'Cause that's the only way this world will ever know who You are, Love is the evidence." ~Citizen Way
Article by Andrea Stunz
I'm a born-and-raised Texan who enjoys any adventure that requires a passport. As a Christ-following pilgrim, I'm a lover of stories and a connoisseur of sunrises and coffee - best when served together. I listen to a wide range of musicians with Andrew Peterson, Jimmy Needham and Bethel Music being just a few of my favorites. When I'm not writing, you'll find me in the kitchen or spending time with those I love.