'When You Speak' Jeremy Camp Official Music Video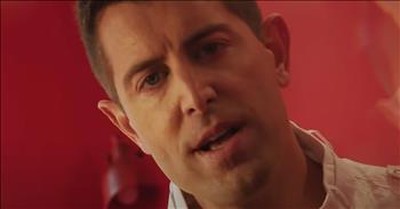 Contemporary Christian artist Jeremy Camp leads us in worship with 'When You Speak.' As you hear these words, be reminded to turn your eyes upon Jesus and let Him lead the way.

"I'm found in the sound of Peace Be Still
The wind and the waves bow to Your will
You drown my fear with a love more real
Than anything, anything I feel when You speak"
For nearly two decades, Jeremy Camp has been spreading God's Word through worship music. Time and time, he uses music to share the love and support that comes from the Lord.
Today, he's sharing his powerful, new single 'When You Speak' and it is truly a beautiful testament to the strength of the Lord.
"It's the Father whispering
Mercy over every need
Breaking through and breaking free
Healing me, it's healing me"
Like many people, Jeremy walked through a difficult season last year.
On Instagram
, he said that he used that time to form a closer relationship to God and truly listen to His Words. "I just began to write and the depth of these lyrics that came were deeper than I've written in a long time."
Jeremy's newest album, "When You Speak," releases September 10th. Filled with songs of worship and praise, this is sure to be a wonderful way to sing of God's many blessings.
Acts 2:38 "And Peter said to them, "Repent and be baptized every one of you in the name of Jesus Christ for the forgiveness of your sins, and you will receive the gift of the Holy Spirit."
jeremy-camp

2252 views

2021-07-19T15:19:35

source: Jeremy Camp Contemporary Christian artist Jeremy Camp leads us in worship with 'When You Speak.' As you hear these words, be reminded to turn your eyes upon Jesus and let Him lead the way.

"I'm found in the sound of Peace Be Still
The wind and the waves bow to Your will
You drown my fear with a love more real
Than anything, anything I feel when You speak"

For nearly two decades, Jeremy Camp has been spreading God's Word through worship music. Time and time, he uses music to share the love and support that comes from the Lord.

Today, he's sharing his powerful, new single 'When You Speak' and it is truly a beautiful testament to the strength of the Lord.

"It's the Father whispering
Mercy over every need
Breaking through and breaking free
Healing me, it's healing me"

Like many people, Jeremy walked through a difficult season last year. On Instagram, he said that he used that time to form a closer relationship to God and truly listen to His Words. "I just began to write and the depth of these lyrics that came were deeper than I've written in a long time."

Jeremy's newest album, "When You Speak," releases September 10th. Filled with songs of worship and praise, this is sure to be a wonderful way to sing of God's many blessings.

Acts 2:38 "And Peter said to them, "Repent and be baptized every one of you in the name of Jesus Christ for the forgiveness of your sins, and you will receive the gift of the Holy Spirit."

Top Artists
Top Music Videos