'When I Pray for You' - Prayers For Our Children By Matthew Paul Turner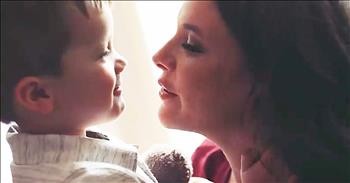 Best-selling children's author, Matthew Paul Turner, returns with his newest faith-filled book, "When I Pray for You." This illustrated Christian book highlights the powerful relationship between a parent and their child.

"From the moment I saw you,
I started to pray.
Big prayers and small ones
I have sent God's way."
Every parent has so many hopes and dreams for their children. They pray each night for God to lead them down a path of righteous and keep them safe each step of the way. This story follows a mother and her daughter as she watches her young baby grow into a woman. Matthew Paul Turner has written sixteen books, including the popular titles 'When God Made You' and 'When God Made Light.' Christian musician, Amy Grant, reads this special excerpt from Turner's newest title.
Let these beautiful words remind you of what a precious gift children truly are. God certainly knew what He was doing when He placed these amazing little beings on this Earth. Be strong in your faith and spread God's message of love and hope to the next generation. Matthew Paul Turner shares the power of prayer with 'When I Pray For You' and it's sure to be another great read.
2 Timothy 3:14-15 "14 But as for you, continue in what you have learned and have become convinced of, because you know those from whom you learned it,
15 and how from infancy you have known the Holy Scriptures, which are able to make you wise for salvation through faith in Christ Jesus."
When I Pray For You by Matthew Paul Turner

From the moment I saw you, I started to pray. Big prayers and small ones I have sent God's way. I'm so excited to share this excerpt from my new children's book 'When I Pray for You," read by beloved artist Amy Grant. _____________________ SPECIAL PREORDER PROMOTION Preorder "When I Pray for You" and get "When God Made Light" free. Step 1: Preorder here: www.matthewpaulturner.com Step 2: Fill out free gift form here: https://waterbrookmultnomah.com/when-i-pray-for-you-pre-order/

Posted by Matthew Paul Turner on Thursday, February 7, 2019
godtube-inspiration

1121 views

2019-02-12T12:55:55

source: Matthew Paul Turner Best-selling children's author, Matthew Paul Turner, returns with his newest faith-filled book, "When I Pray for You." This illustrated Christian book highlights the powerful relationship between a parent and their child.

"From the moment I saw you,
I started to pray.
Big prayers and small ones
I have sent God's way."

Every parent has so many hopes and dreams for their children. They pray each night for God to lead them down a path of righteous and keep them safe each step of the way. This story follows a mother and her daughter as she watches her young baby grow into a woman. Matthew Paul Turner has written sixteen books, including the popular titles 'When God Made You' and 'When God Made Light.' Christian musician, Amy Grant, reads this special excerpt from Turner's newest title.

Let these beautiful words remind you of what a precious gift children truly are. God certainly knew what He was doing when He placed these amazing little beings on this Earth. Be strong in your faith and spread God's message of love and hope to the next generation. Matthew Paul Turner shares the power of prayer with 'When I Pray For You' and it's sure to be another great read.

2 Timothy 3:14-15 "14 But as for you, continue in what you have learned and have become convinced of, because you know those from whom you learned it,
15 and how from infancy you have known the Holy Scriptures, which are able to make you wise for salvation through faith in Christ Jesus."
Today's Devotional
A Prayer for Trust - Your Daily Prayer - April 26
Top Artists