Casting Crowns - Who Am I - Doctor Bob Studios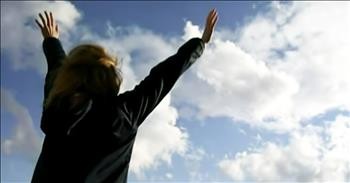 Grammy award winning band Casting Crowns praises God with their single "Who Am I." These powerful words remind us that God loves us despite all of our sins. He truly cares for each and every one of us no matter what.

"Who am I, that the lord of all the earth
Would care to know my name
Would care to feel my hurt?
Who am I, that the bright and morning star
Would choose to light the way
For my ever wandering heart?"
This special worship song is produced by Doctor Bob Studios. The beautiful imagery in the video provides the perfect backdrop for this song of adoration. As bible verses flash across the screen, I am reminded of God's love and grace.
"Not because of who I am
But because of what you've done
Not because of what I've done
But because of who you are"
There is truly no one like our Father in Heaven. He has given us so many blessings in our lives, even when we do not deserve them. Because of His grace, we are forgiven of our sins and will live out our days in Heaven. That is such a special gift that deserves never-ending praise. This Casting Crowns song is the perfect way to give glory to God for all to hear.
Ephesians 2:8-9 "For it is by grace you have been saved, through faith—and this is not from yourselves, it is the gift of God— 9 not by works, so that no one can boast."
Buy Now

doctorbob

149545 views

2008-03-17T00:00:00

source: Desertbob61 Grammy award winning band Casting Crowns praises God with their single "Who Am I." These powerful words remind us that God loves us despite all of our sins. He truly cares for each and every one of us no matter what.

"Who am I, that the lord of all the earth
Would care to know my name
Would care to feel my hurt?
Who am I, that the bright and morning star
Would choose to light the way
For my ever wandering heart?"

This special worship song is produced by Doctor Bob Studios. The beautiful imagery in the video provides the perfect backdrop for this song of adoration. As bible verses flash across the screen, I am reminded of God's love and grace.

"Not because of who I am
But because of what you've done
Not because of what I've done
But because of who you are"

There is truly no one like our Father in Heaven. He has given us so many blessings in our lives, even when we do not deserve them. Because of His grace, we are forgiven of our sins and will live out our days in Heaven. That is such a special gift that deserves never-ending praise. This Casting Crowns song is the perfect way to give glory to God for all to hear.

Ephesians 2:8-9 "For it is by grace you have been saved, through faith—and this is not from yourselves, it is the gift of God— 9 not by works, so that no one can boast."
Today's Devotional
A Prayer to Celebrate God's Good Gifts in Us - Your Daily Prayer - June 27
Top Artists