'King Of Kings' Live Performance From Hillsong Worship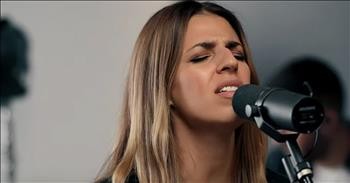 The talented voices of Hillsong Worship perform an acoustic rendition of 'King Of Kings.' The words of this song serve as a reminder of the strength and power of our Lord.

"Praise the Father
Praise the Son
Praise the Spirit three in one
God of glory Majesty
Praise forever to the King of Kings"
Hillsong Worship has been a leader in worship music since 1983. At first, they only performed at their home church, in Sydney, Australia. But as their music popularity grew, the group decided to share their talents with the entire world.
Their first album was released in 1988 and, now, Hillsong has become a name synonymous with Christian worship anthems. Over the years, these talented voices have given us hits such as 'Cornerstone' and 'What A Beautiful Name.' Many of their worship tunes are staples in church services.
Today, they are sharing a special performance of their song 'King Of Kings.' We also learn the story behind these powerful lyrics and how to play it on our own, at home.
"For even in Your suffering
You saw to the other side
Knowing this was our salvation
Jesus for our sake You died"
What a beautiful reminder that He is our King forevermore. Because of His sacrifice on the cross, we are all forgiven. What a blessing, indeed!
Revelation 15:3 "And they sing the song of Moses, the servant of God, and the song of the Lamb, saying, "Great and amazing are your deeds, O Lord God the Almighty! Just and true are your ways, O King of the nations!"
hillsong-worship

4421 views

2019-07-24T09:35:05

source: Hillsong Worship The talented voices of Hillsong Worship perform an acoustic rendition of 'King Of Kings.' The words of this song serve as a reminder of the strength and power of our Lord.

"Praise the Father
Praise the Son
Praise the Spirit three in one
God of glory Majesty
Praise forever to the King of Kings"

Hillsong Worship has been a leader in worship music since 1983. At first, they only performed at their home church, in Sydney, Australia. But as their music popularity grew, the group decided to share their talents with the entire world.

Their first album was released in 1988 and, now, Hillsong has become a name synonymous with Christian worship anthems. Over the years, these talented voices have given us hits such as 'Cornerstone' and 'What A Beautiful Name.' Many of their worship tunes are staples in church services.

Today, they are sharing a special performance of their song 'King Of Kings.' We also learn the story behind these powerful lyrics and how to play it on our own, at home.

"For even in Your suffering
You saw to the other side
Knowing this was our salvation
Jesus for our sake You died"

What a beautiful reminder that He is our King forevermore. Because of His sacrifice on the cross, we are all forgiven. What a blessing, indeed!

Revelation 15:3 "And they sing the song of Moses, the servant of God, and the song of the Lamb, saying, "Great and amazing are your deeds, O Lord God the Almighty! Just and true are your ways, O King of the nations!"

Today's Devotional
A Prayer for Friendship - Your Daily Prayer - February 22
Top Artists