'Joy To The World (Joyful, Joyful)' Phil Wickham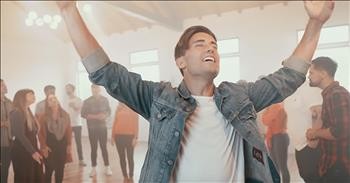 Christian artist Phil Wickham starts the Christmas season early with his newest single 'Joy To The World (Joyful Joyful).' This incredible holiday song will be featured on Phil's upcoming album titled 'Christmas.'

"Joy to the world the Savior reigns
Let men their songs employ
While fields and floods rocks hills and plains
Repeat the sounding joy
Repeat the sounding joy
Repeat repeat the sounding joy"
This song was very special to Phil. He said, "'Joy To The World' may be my favorite song for Christmas in terms of lyrics. It's just so beautifully written. There is so much joy and declaration of what God had done to enter into our darkness, bringing joy and light and peace. It's been amazing to go live into the studio and bring it to life, and envision what I always wanted it to be."
Today, he's showcasing the brand new video for this powerful Christmas song. Just listen as he stands with a choir behind him and belts out these incredible words.
"Joyful joyful we adore Thee
God of glory Lord of love
Oh Lord of love
Hearts unfold like flowers before Thee
Opening to the sun above"
In my opinion, it's never too early to get into the Christmas season. What do you think of Phil's merry tune of worship?
Isaiah 9:6 "For to us a child is born, to us a son is given, and the government will be on his shoulders. And he will be called Wonderful Counselor, Mighty God, Everlasting Father, Prince of Peace."
phil-wickham

3539 views

2019-10-07T16:12:00

source: Phil Wickham Christian artist Phil Wickham starts the Christmas season early with his newest single 'Joy To The World (Joyful Joyful).' This incredible holiday song will be featured on Phil's upcoming album titled 'Christmas.'

"Joy to the world the Savior reigns
Let men their songs employ
While fields and floods rocks hills and plains
Repeat the sounding joy
Repeat the sounding joy
Repeat repeat the sounding joy"

This song was very special to Phil. He said, "'Joy To The World' may be my favorite song for Christmas in terms of lyrics. It's just so beautifully written. There is so much joy and declaration of what God had done to enter into our darkness, bringing joy and light and peace. It's been amazing to go live into the studio and bring it to life, and envision what I always wanted it to be."

Today, he's showcasing the brand new video for this powerful Christmas song. Just listen as he stands with a choir behind him and belts out these incredible words.

"Joyful joyful we adore Thee
God of glory Lord of love
Oh Lord of love
Hearts unfold like flowers before Thee
Opening to the sun above"

In my opinion, it's never too early to get into the Christmas season. What do you think of Phil's merry tune of worship?

Isaiah 9:6 "For to us a child is born, to us a son is given, and the government will be on his shoulders. And he will be called Wonderful Counselor, Mighty God, Everlasting Father, Prince of Peace."

Today's Devotional
A Prayer for Rejection - Your Daily Prayer - March 31
Top Artists