High School Choir Leads Worship With 'No More Night'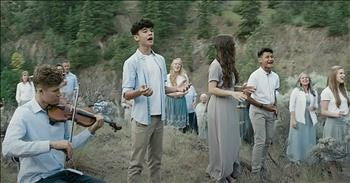 The talented students from The Fountainview Academy choir perform a soul-stirring rendition of 'No More Night.' These powerful words remind us all that God is in control and His strength will always reign supreme.

"The timeless theme, Earth and Heaven will pass away
It's not a dream, God will make all things new that day
Gone is the curse from which I stumbled and fell
Evil is banished to eternal hell"
The Fountainview Academy is a Christian high school located in Canada. And these choir students take their mission very seriously. On the school website, the music program aims for "reaching those who are searching for Christ through media, and music productions."
For years, they've blessed us with beautiful covers of worship hits such as 'The Old Rugged Cross' and 'Amazing Grace.' Today, they are taking on another beloved tune with 'No More Night.' Just listen as all these incredible voices come together to worship our Lord.
"No more night, no more pain
No more tears, never crying again
And praises to the great, "I am"
We will live in the light of the risen Lamb"
We are blessed to serve such a loving and gracious Father in Heaven. One day, we will be reunited with the Lord and there will be no more pain and no more darkness. What a glorious day that will be, indeed!
Revelation 21:4 "He will wipe away every tear from their eyes, and death shall be no more, neither shall there be mourning, nor crying, nor pain anymore, for the former things have passed away."
GodTube-Music

12334 views

2020-06-22T15:21:22

source: Fountainview Academy The talented students from The Fountainview Academy choir perform a soul-stirring rendition of 'No More Night.' These powerful words remind us all that God is in control and His strength will always reign supreme.

"The timeless theme, Earth and Heaven will pass away
It's not a dream, God will make all things new that day
Gone is the curse from which I stumbled and fell
Evil is banished to eternal hell"

The Fountainview Academy is a Christian high school located in Canada. And these choir students take their mission very seriously. On the school website, the music program aims for "reaching those who are searching for Christ through media, and music productions."

For years, they've blessed us with beautiful covers of worship hits such as 'The Old Rugged Cross' and 'Amazing Grace.' Today, they are taking on another beloved tune with 'No More Night.' Just listen as all these incredible voices come together to worship our Lord.

"No more night, no more pain
No more tears, never crying again
And praises to the great, "I am"
We will live in the light of the risen Lamb"

We are blessed to serve such a loving and gracious Father in Heaven. One day, we will be reunited with the Lord and there will be no more pain and no more darkness. What a glorious day that will be, indeed!

Revelation 21:4 "He will wipe away every tear from their eyes, and death shall be no more, neither shall there be mourning, nor crying, nor pain anymore, for the former things have passed away."

Today's Devotional
A Prayer of Praise for Worn Out Bibles - Your Daily Prayer - September 19I live in this book, with this book, and by this book. Like our verse in Hebrews says, God's word to me is "alive and active."
Top Artists