'Evidence' Acoustic Performance From Josh Baldwin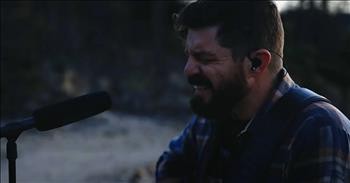 Contemporary Christian singer-songwriter Josh Baldwin reminds us of God's goodness with 'Evidence.' This uplifting song is the perfect way to praise His Name during these uncertain times.

"All throughout my history
Your faithfulness has walked beside me
The winter storms made way for spring
In every season, from where I'm standing"
Josh is a member of the Bethel Music collective and serves as a worship leader at Bethel Church in Redding, California. Over the past few years, he's given us hits such as 'Stand In Your Love' and 'Get Your Hopes Up.'
Today, he's sharing his latest sing, 'Evidence' with this acoustic performance. On Instagram, Josh wrote about the heart behind 'Evidence.' "In the middle of a pandemic and the uncertainty that has impacted our way of life the Lord has used this song to help me remember His faithfulness. I continue to remind myself of all that He has done for me...for my family...and for all of us. I see the evidence of His goodness and His faithfulness all around."
"I see the evidence of Your goodness
All over my life
All over my life
I see Your promises in fulfillment
All over my life
All over my life"
Even in the midst of uncertainty, God is always in control and these words provide us comfort and peace.
Exodus 33:19 "And he said, "I will make all my goodness pass before you and will proclaim before you my name 'The LORD.' And I will be gracious to whom I will be gracious, and will show mercy on whom I will show mercy."
bethel-music

1723 views

2020-06-16T15:46:11

source: Bethel Music Contemporary Christian singer-songwriter Josh Baldwin reminds us of God's goodness with 'Evidence.' This uplifting song is the perfect way to praise His Name during these uncertain times.

"All throughout my history
Your faithfulness has walked beside me
The winter storms made way for spring
In every season, from where I'm standing"

Josh is a member of the Bethel Music collective and serves as a worship leader at Bethel Church in Redding, California. Over the past few years, he's given us hits such as 'Stand In Your Love' and 'Get Your Hopes Up.'

Today, he's sharing his latest sing, 'Evidence' with this acoustic performance. On Instagram, Josh wrote about the heart behind 'Evidence.' "In the middle of a pandemic and the uncertainty that has impacted our way of life the Lord has used this song to help me remember His faithfulness. I continue to remind myself of all that He has done for me...for my family...and for all of us. I see the evidence of His goodness and His faithfulness all around."

"I see the evidence of Your goodness
All over my life
All over my life

I see Your promises in fulfillment
All over my life
All over my life"

Even in the midst of uncertainty, God is always in control and these words provide us comfort and peace.

Exodus 33:19 "And he said, "I will make all my goodness pass before you and will proclaim before you my name 'The LORD.' And I will be gracious to whom I will be gracious, and will show mercy on whom I will show mercy."

Today's Devotional
A Prayer for a Strong Marriage - Your Daily Prayer - August 9
Top Artists