'Graves Into Gardens' Acoustic From Elevation Worship And Brandon Lake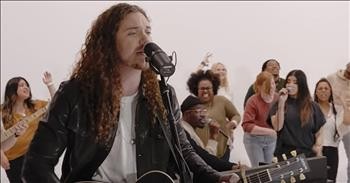 Enjoy an acoustic performance of 'Graves Into Gardens' from Elevation Worship featuring Brandon Lake. As you listen to these words, be reminded that our God is always in control and He loves us no matter what.

"I'm not afraid
To show You my weakness
My failures and flaws
Lord You've seen them all
And You still call me friend"
Elevation Worship formed in 2007 at Elevation Church in Charlotte, North Carolina. Similar to other Christian bands like Hillsong UNITED, Elevation Worship started as the Sunday band and gradually transitioned to a worldwide audience.
Today, this talented team is being led by Brandon Lake. On his biography it says, "Brandon believes that the people of God should be the freest people on the planet, and he is passionate about releasing joy and excitement while pursuing the presence of God in worship."
Just listen as he leads us all in worship with these words of love and praise with 'Graves Into Gardens.'
"You turn graves into gardens
You turn bones into armies
You turn seas into highways
You're the only one who can
You're the only one who can"
We are so loved by a Father who gives us strength and courage. Who else is saying amen right now?
Galatians 2:20 "I have been crucified with Christ. It is no longer I who live, but Christ who lives in me. And the life I now live in the flesh I live by faith in the Son of God, who loved me and gave himself for me."
elevation-worship

704 views

2020-04-06T16:00:30

source: Elevation Worship Enjoy an acoustic performance of 'Graves Into Gardens' from Elevation Worship featuring Brandon Lake. As you listen to these words, be reminded that our God is always in control and He loves us no matter what.

"I'm not afraid
To show You my weakness
My failures and flaws
Lord You've seen them all
And You still call me friend"

Elevation Worship formed in 2007 at Elevation Church in Charlotte, North Carolina. Similar to other Christian bands like Hillsong UNITED, Elevation Worship started as the Sunday band and gradually transitioned to a worldwide audience.

Today, this talented team is being led by Brandon Lake. On his biography it says, "Brandon believes that the people of God should be the freest people on the planet, and he is passionate about releasing joy and excitement while pursuing the presence of God in worship."

Just listen as he leads us all in worship with these words of love and praise with 'Graves Into Gardens.'

"You turn graves into gardens
You turn bones into armies
You turn seas into highways
You're the only one who can
You're the only one who can"

We are so loved by a Father who gives us strength and courage. Who else is saying amen right now?

Galatians 2:20 "I have been crucified with Christ. It is no longer I who live, but Christ who lives in me. And the life I now live in the flesh I live by faith in the Son of God, who loved me and gave himself for me."

Today's Devotional
A Prayer of Praise for Worn Out Bibles - Your Daily Prayer - September 19I live in this book, with this book, and by this book. Like our verse in Hebrews says, God's word to me is "alive and active."
Top Artists