'On And On' Live Performance From Travis Cottrell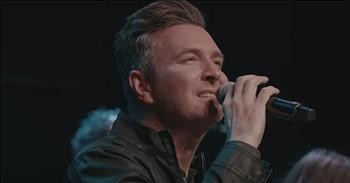 Worship leader Travis Cottrell praises the Lord with a live rendition of 'On And On.' These words of worship remind us that God's love is never-ending for every single one of us.

"Like a river flowing
Levee breaking open
Rushing wild it's always free and strong
Let my heart remember
I am Yours forever
There's no end to the song
Your love goes on and on and on and on
On and on and on and on"
Contemporary Christian artist Travis Cottrell is a worship leader with a true heart for the Lord. For nearly 20 years, he has served as the worship leader for Beth Moore and toured with her during various conferences all across the nation.
Travis has had the unique opportunity to minister to thousands of people through the gift of music. Today, he's performing a live rendition of his song, 'On And On' and it is such an awe-inspiring tune of hope and praise.
"Taking all my sin
Rising from the grave
I will lift my voice
I will praise Your name"
We are so loved by our Lord in Heaven. Every single thing on Earth was touched by His Hands and God continues to support us each step of the way. Let us join our voices together and use this song to give Heavenly praise to His Name.
Exodus 15:2 "The LORD is my strength and my song, and he has become my salvation; this is my God, and I will praise him, my father's God, and I will exalt him."
travis-cottrell

2122 views

2020-02-24T17:02:42

source: Travis Cottrell Worship leader Travis Cottrell praises the Lord with a live rendition of 'On And On.' These words of worship remind us that God's love is never-ending for every single one of us.

"Like a river flowing
Levee breaking open
Rushing wild it's always free and strong
Let my heart remember
I am Yours forever
There's no end to the song
Your love goes on and on and on and on
On and on and on and on"

Contemporary Christian artist Travis Cottrell is a worship leader with a true heart for the Lord. For nearly 20 years, he has served as the worship leader for Beth Moore and toured with her during various conferences all across the nation.

Travis has had the unique opportunity to minister to thousands of people through the gift of music. Today, he's performing a live rendition of his song, 'On And On' and it is such an awe-inspiring tune of hope and praise.

"Taking all my sin
Rising from the grave
I will lift my voice
I will praise Your name"

We are so loved by our Lord in Heaven. Every single thing on Earth was touched by His Hands and God continues to support us each step of the way. Let us join our voices together and use this song to give Heavenly praise to His Name.

Exodus 15:2 "The LORD is my strength and my song, and he has become my salvation; this is my God, and I will praise him, my father's God, and I will exalt him."

Today's Devotional
A Prayer for a Strong Marriage - Your Daily Prayer - August 9
Top Artists