Husband And Wife Sing 'My Jesus I Love Thee'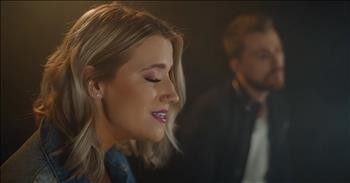 Caleb + Kelsey lead us in worship with the beautiful words of 'My Jesus I Love Thee.' This stunning hymn reminds us all that there is no love like the love from our Father.

"My Jesus I love Thee, I know Thou art mine
For Thee all the follies of sin I resign
My gracious Redeemer, my Saviour art Thou
If ever I loved Thee my Jesus 'tis now"
Caleb and Kelsey Grimm are an incredibly talented Christian duo. Together, these two powerhouse voices have brought us brilliant worship covers and secular favorites such as 'Oceans (Where Feet May Fail)' and 'My Heart Will Go On.'
Today, they are taking on another classic with this incredible performance of 'My Jesus I Love Thee.' As we listen to these sweet lyrics, there is not doubt that we are blessed beyond measure. Even when times may seem tough, remember that God is always by our side.
"I love Thee because Thou has first loved me
And purchased my pardon on Calvary's tree
I love Thee for wearing the thorns on Thy brow
If ever I loved Thee my Jesus 'tis now"
Mark 12:29-31 "Jesus answered, "The most important is, 'Hear, O Israel: The Lord our God, the Lord is one. And you shall love the Lord your God with all your heart and with all your soul and with all your mind and with all your strength.' The second is this: 'You shall love your neighbor as yourself.' There is no other commandment greater than these."
anthem-lights

828 views

2020-05-05T13:10:24

source: Anthem Lights Caleb + Kelsey lead us in worship with the beautiful words of 'My Jesus I Love Thee.' This stunning hymn reminds us all that there is no love like the love from our Father.

"My Jesus I love Thee, I know Thou art mine
For Thee all the follies of sin I resign
My gracious Redeemer, my Saviour art Thou
If ever I loved Thee my Jesus 'tis now"

Caleb and Kelsey Grimm are an incredibly talented Christian duo. Together, these two powerhouse voices have brought us brilliant worship covers and secular favorites such as 'Oceans (Where Feet May Fail)' and 'My Heart Will Go On.'

Today, they are taking on another classic with this incredible performance of 'My Jesus I Love Thee.' As we listen to these sweet lyrics, there is not doubt that we are blessed beyond measure. Even when times may seem tough, remember that God is always by our side.

"I love Thee because Thou has first loved me
And purchased my pardon on Calvary's tree
I love Thee for wearing the thorns on Thy brow
If ever I loved Thee my Jesus 'tis now"

Mark 12:29-31 "Jesus answered, "The most important is, 'Hear, O Israel: The Lord our God, the Lord is one. And you shall love the Lord your God with all your heart and with all your soul and with all your mind and with all your strength.' The second is this: 'You shall love your neighbor as yourself.' There is no other commandment greater than these."

Today's Devotional
A Prayer to Forgive Yourself - Your Daily Prayer - June 3
Top Artists