Adorable Baby Elephant Enjoys Playtime in the Sand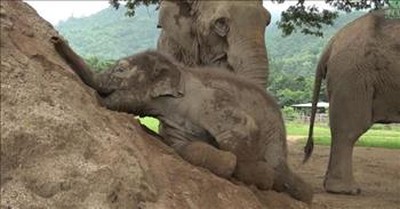 Watch this adorable baby elephant enjoy her playtime in the sand — guaranteed to bring a little happiness to your day!

Little Pyi Mai recently got to play around in a pile of freshly delivered sand, and clearly, she had the time of her life! After she seemingly rolled around in the mud, Pyi Mai went straight to the mound of sand.
Pyi Mai lives with her elephant family and other Asian elephants at Elephant Nature Park in Thailand. Since the 1990s, the 'Save Elephant Foundation' has funded the sanctuary and provided a rescue center for struggling elephants from all over the country.
Sangdeaun Lek Chailert founded the 'Save Elephant Foundation,' a nonprofit organization aiming to improve the treatment of elephants. Lek grew up in a family with a strong love for animals and decided to devote her life to the welfare of elephants.
In the video, Lek sits right on top of the sand mound encouraging the baby to dive into the sand. It didn't take much encouragement because Pyi Mai was all too happy to jump right in. She even attempted to climb up to Lek to play with her!
The sand quickly moved out from under the baby's hundreds of pounds, and Pyi Mai fell back to the bottom. That didn't stop her from enjoying the brand new sand though!
Later on, the adorable baby returned to the sand pile with her family. You can see her rolling around at the bottom and rubbing her face in it. It's just too pure! These beautiful creatures embrace sand with excitement while I can't stand how it gets everywhere!
After rolling around for a while, Pyi Mai seemed to get a little hungry. So, this goofy gal slid right off the hill onto her feet and found the closest snack to munch on. What a perfect day!
Let your light so shine before men, that they may see your good works, and glorify your Father which is in heaven.
Matthew 5:16
godtube-animals

549 views

2021-09-24T16:46:21

source: elephantnews Watch this adorable baby elephant enjoy her playtime in the sand — guaranteed to bring a little happiness to your day!

Little Pyi Mai recently got to play around in a pile of freshly delivered sand, and clearly, she had the time of her life! After she seemingly rolled around in the mud, Pyi Mai went straight to the mound of sand.

Pyi Mai lives with her elephant family and other Asian elephants at Elephant Nature Park in Thailand. Since the 1990s, the 'Save Elephant Foundation' has funded the sanctuary and provided a rescue center for struggling elephants from all over the country.

Sangdeaun Lek Chailert founded the 'Save Elephant Foundation,' a nonprofit organization aiming to improve the treatment of elephants. Lek grew up in a family with a strong love for animals and decided to devote her life to the welfare of elephants.

In the video, Lek sits right on top of the sand mound encouraging the baby to dive into the sand. It didn't take much encouragement because Pyi Mai was all too happy to jump right in. She even attempted to climb up to Lek to play with her!

The sand quickly moved out from under the baby's hundreds of pounds, and Pyi Mai fell back to the bottom. That didn't stop her from enjoying the brand new sand though!

Later on, the adorable baby returned to the sand pile with her family. You can see her rolling around at the bottom and rubbing her face in it. It's just too pure! These beautiful creatures embrace sand with excitement while I can't stand how it gets everywhere!

After rolling around for a while, Pyi Mai seemed to get a little hungry. So, this goofy gal slid right off the hill onto her feet and found the closest snack to munch on. What a perfect day!

Let your light so shine before men, that they may see your good works, and glorify your Father which is in heaven. Matthew 5:16


Top Artists
Top Music Videos