Men Of Celtic Thunder Perform 'Take Me Home'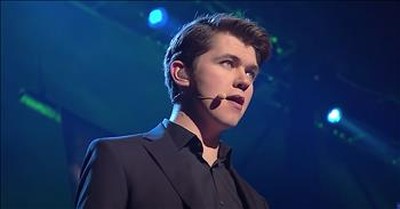 Celtic Thunder recently released a new album called "Homeland." And in this video, the men of Celtic Thunder perform "Take Me Home."

Each young man has a solo in this professional performance. They are on a large stage as the light appears on each one who is singing. We see a sunset sky on a projector and instrumentalists in the background.
There is violin, cello, harp, guitars, drums, and piano. Then, suddenly at the chorus, we can see all of the men and as they sing in harmonies. There are colors of green and rivers displayed creating a very Irish feel to match their song and style.
Towards the end of the song all of the vocalists join together side by side on the front of the stage. Their strength, poise, and precision with their voices and positioning is that of an army of soldiers in perfect unison. As clouds move over a sky in the background, the gentlemen finish the song while each raising an arm.
We may not be from Ireland, but we all have a place that is familiar to us. Home is a desirable place. The six men in this song portray the desire to be home. Ultimately, although there are wonderful places in this world, here is not our forever home. Heaven is described as our eternal home. As these men sing with zeal, may it remind us to be joyful of what is to come and that God Himself is preparing a place for those who accept Jesus at Lord.
"In My Father's house are many rooms. If it were not so, would I have told you that I am going there to prepare a place for you? And if I go and prepare a place for you, I will come back and welcome you into My presence, so that you also may be where I am. You know the way to the place where I am going."
John 14:2-4
GodTube-Music

1759 views

2021-09-24T10:44:29

source: Celtic Thunder Celtic Thunder recently released a new album called "Homeland." And in this video, the men of Celtic Thunder perform "Take Me Home."

Each young man has a solo in this professional performance. They are on a large stage as the light appears on each one who is singing. We see a sunset sky on a projector and instrumentalists in the background.

There is violin, cello, harp, guitars, drums, and piano. Then, suddenly at the chorus, we can see all of the men and as they sing in harmonies. There are colors of green and rivers displayed creating a very Irish feel to match their song and style.

Towards the end of the song all of the vocalists join together side by side on the front of the stage. Their strength, poise, and precision with their voices and positioning is that of an army of soldiers in perfect unison. As clouds move over a sky in the background, the gentlemen finish the song while each raising an arm.

We may not be from Ireland, but we all have a place that is familiar to us. Home is a desirable place. The six men in this song portray the desire to be home. Ultimately, although there are wonderful places in this world, here is not our forever home. Heaven is described as our eternal home. As these men sing with zeal, may it remind us to be joyful of what is to come and that God Himself is preparing a place for those who accept Jesus at Lord.

"In My Father's house are many rooms. If it were not so, would I have told you that I am going there to prepare a place for you? And if I go and prepare a place for you, I will come back and welcome you into My presence, so that you also may be where I am. You know the way to the place where I am going." John 14:2-4

Today's Devotional
A Prayer to Remember That Joy Is a Way of Life - Your Daily Prayer - May 21
The Bible commands us, "be joyful aways!"
Top Artists
Top Music Videos