'No Doctor Like Jesus' From The Detty Sisters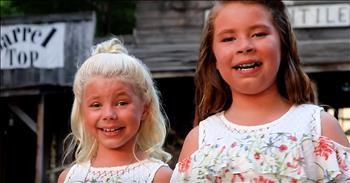 The Detty Sisters lead us in worship with a beautiful, original song called 'No Doctor Like Jesus.'

There's truly nothing better than hearing the younger generation sing praises to our Lord. And today, that's exactly what these talented sisters are doing today.
The Detty Sisters are comprised of four country cuties from southern Ohio. Peyton, Cadie, Lily and Sophia have all been singing worship songs since a very young age. After singing in church, the family felt a calling to share their music in a bigger way.
On their website, they share, "He said what we are doing at our church and in our home, I want you to share it with the world. That is exactly what we began to do. As we stepped out in faith, listening to God and not man, He said He would do more for us than what we could ever imagine."
Today, older sisters Peyton and Cadie are singing the Lord's praise with 'No Doctor Like Jesus.'
This original song was written when by Peyton when she was just 10 years old.
And when you hear the blessed words, you will be raising your hands in the air with praise.
These girls certainly have a gift from God and it's so amazing to watch them use that gift to honor His Name.
Philippians 4:6-7 "Do not be anxious about anything, but in everything by prayer and supplication with thanksgiving let your requests be made known to God. And the peace of God, which surpasses all understanding, will guard your hearts and your minds in Christ Jesus."
GodTube-Music

8965 views

2020-02-13T12:59:09

source: The Detty Sisters The Detty Sisters lead us in worship with a beautiful, original song called 'No Doctor Like Jesus.'

There's truly nothing better than hearing the younger generation sing praises to our Lord. And today, that's exactly what these talented sisters are doing today.

The Detty Sisters are comprised of four country cuties from southern Ohio. Peyton, Cadie, Lily and Sophia have all been singing worship songs since a very young age. After singing in church, the family felt a calling to share their music in a bigger way.

On their website, they share, "He said what we are doing at our church and in our home, I want you to share it with the world. That is exactly what we began to do. As we stepped out in faith, listening to God and not man, He said He would do more for us than what we could ever imagine."

Today, older sisters Peyton and Cadie are singing the Lord's praise with 'No Doctor Like Jesus.'

This original song was written when by Peyton when she was just 10 years old.
And when you hear the blessed words, you will be raising your hands in the air with praise.

These girls certainly have a gift from God and it's so amazing to watch them use that gift to honor His Name.

Philippians 4:6-7 "Do not be anxious about anything, but in everything by prayer and supplication with thanksgiving let your requests be made known to God. And the peace of God, which surpasses all understanding, will guard your hearts and your minds in Christ Jesus."

Today's Devotional
A Prayer to Be Sober-Minded - Your Daily Prayer - July 7
Top Artists