'Your Wings' Lauren Daigle Sings At-Home Version Of Worship Song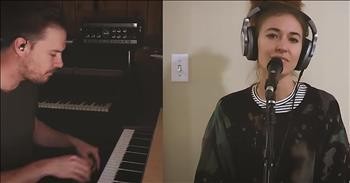 Grammy award-winning Christian artist reminds us that God is in control with her at-home performance of 'Your Wings.'

Lauren is talented Christian singer and songwriter. In just a few short years, Lauren Daigle has truly made a name for herself as one of the most influential Christian artists of the modern era. Her powerful lyrics and unique voice resonate with both the secular and Christian music scene.
As most of the world shelters in place during the COVID-19 pandemic, it is more important than ever to cling to our faith. And this song is the perfect tune to give us hope during these uncertain times.
"You got me under Your wings
Under Your wings
I'm under, I'm under Your wings
You got me
You cover me, You cover me
I'm under, I'm under Your wings"
'Your Wings' is featured on Lauren's 2018 album 'Look Up Child' which also gave us the hit songs, 'You Say' and 'Rescue.' This incredible tune speaks to our relationship with God and how He always protects us.
Just listen as Lauren performs 'Your Wings' while she remains at home to carry out social distancing.
"With every step that I take
You are before and behind me
In every fear that I face
I'm constantly finding
You're my covering
I'm safe, I'm safe
Whatever comes at me
I'm safe, I'm safe"
Psalm 91:4 "He shall cover you with His feathers, And under His wings you shall take refuge; His truth shall be your shield and buckler."
lauren-daigle

7368 views

2020-04-23T15:55:54

source: Lauren Daigle Grammy award-winning Christian artist reminds us that God is in control with her at-home performance of 'Your Wings.'

Lauren is talented Christian singer and songwriter. In just a few short years, Lauren Daigle has truly made a name for herself as one of the most influential Christian artists of the modern era. Her powerful lyrics and unique voice resonate with both the secular and Christian music scene.

As most of the world shelters in place during the COVID-19 pandemic, it is more important than ever to cling to our faith. And this song is the perfect tune to give us hope during these uncertain times.

"You got me under Your wings
Under Your wings
I'm under, I'm under Your wings
You got me
You cover me, You cover me
I'm under, I'm under Your wings"

'Your Wings' is featured on Lauren's 2018 album 'Look Up Child' which also gave us the hit songs, 'You Say' and 'Rescue.' This incredible tune speaks to our relationship with God and how He always protects us.

Just listen as Lauren performs 'Your Wings' while she remains at home to carry out social distancing.

"With every step that I take
You are before and behind me
In every fear that I face
I'm constantly finding
You're my covering
I'm safe, I'm safe
Whatever comes at me
I'm safe, I'm safe"

Psalm 91:4 "He shall cover you with His feathers, And under His wings you shall take refuge; His truth shall be your shield and buckler."

Today's Devotional
A Prayer to Forgive Yourself - Your Daily Prayer - June 3
Top Artists