'Because He Lives (Amen)' College Choir Sings Beloved Hymn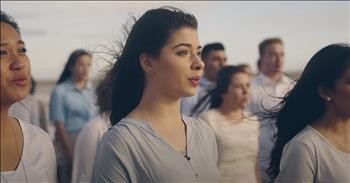 The talented voices of the West Coast Choir lead us in worship with 'Because He Lives (Amen).' When Matt Maher originally released this worship song,

it quickly became an instant hit. Countless artists have lent their voices to the tune and, over the years, the song has become a modern-day Christian anthem.
"I believe in the Son
I believe in the risen One
I believe I overcome
By the power of His blood"
Today, the incredible vocalists from the West Coast Choir are lifting up His Name in Heavenly praise with their own rendition of 'Because He Lives (Amen).' This musical group comes from West Coast Baptist College in Lancaster, California.
For years, they've been using their vocal talents to sing of His praises through song and worship music. Now, they're taking on a beloved classic with this Matt Maher hit and it's absolutely incredible to hear.
Just listen as the choir comes together in beautiful praise to our King.
"Amen, Amen
I'm alive, I'm alive
Because He lives
Amen, Amen
Let my song join the one that never ends
Because He lives"
We are blessed to serve such a loving and gracious Father in Heaven. And because of Jesus' sacrifice, we are freed of our Earthly chains. Amen!
1 Peter 1: 18-19 "18 For you know that it was not with perishable things such as silver or gold that you were redeemed from the empty way of life handed down to you from your ancestors, 19 but with the precious blood of Christ, a lamb without blemish or defect."
GodTube-Music

3778 views

2020-06-17T14:47:07

source: West Coast Baptist College The talented voices of the West Coast Choir lead us in worship with 'Because He Lives (Amen).' When Matt Maher originally released this worship song,

it quickly became an instant hit. Countless artists have lent their voices to the tune and, over the years, the song has become a modern-day Christian anthem.

"I believe in the Son
I believe in the risen One
I believe I overcome
By the power of His blood"

Today, the incredible vocalists from the West Coast Choir are lifting up His Name in Heavenly praise with their own rendition of 'Because He Lives (Amen).' This musical group comes from West Coast Baptist College in Lancaster, California.

For years, they've been using their vocal talents to sing of His praises through song and worship music. Now, they're taking on a beloved classic with this Matt Maher hit and it's absolutely incredible to hear.

Just listen as the choir comes together in beautiful praise to our King.

"Amen, Amen
I'm alive, I'm alive
Because He lives
Amen, Amen
Let my song join the one that never ends
Because He lives"

We are blessed to serve such a loving and gracious Father in Heaven. And because of Jesus' sacrifice, we are freed of our Earthly chains. Amen!

1 Peter 1: 18-19 "18 For you know that it was not with perishable things such as silver or gold that you were redeemed from the empty way of life handed down to you from your ancestors, 19 but with the precious blood of Christ, a lamb without blemish or defect."

Today's Devotional
A Prayer for a Strong Marriage - Your Daily Prayer - August 9
Top Artists