'Away In A Manger (Forever Amen)' Phil Wickham Acoustic Performance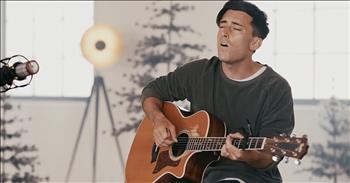 Contemporary Christian artist Phil Wickham performs an acoustic rendition of 'Away In A Manger (Forever Amen).'

This classic Christmas hymn in a favorite by many and the powerful words remind us all of the importance of Jesus' birth.
"Away in a manger no crib for His bed
The little Lord Jesus lay down His sweet head
The stars in the sky look down where He lay
The little Lord Jesus asleep on the hay"
Phil Wickham is a staple in the Christian music scene with hits such as 'This Is Amazing Grace' and 'Living Hope.' Now, he's releasing a Christmas album featuring some of our favorite holiday tunes.
Today, he's performing an acoustic version of 'Away In A Manger (Forever Amen)' and it's absolutely incredible to hear.
"I worship You Jesus for all of my days
The highest of praises be unto Your name
My God and my Savior my King and my Friend
Yours is the glory forever amen"
Christmas time always brings out the best in people. We are spending time with family and friends and remembering the real reason for the season. Jesus' birth paved the way for our path into Heaven.
Now, we are freed from our sins and can share His message of love and hope with the world.
Isaiah 9:6 "For to us a child is born, to us a son is given; and the government shall be upon his shoulder, and his name shall be called Wonderful Counselor, Mighty God, Everlasting Father, Prince of Peace."
godtube-christmas

796 views

2019-11-25T16:11:10

source: Phil Wickham Contemporary Christian artist Phil Wickham performs an acoustic rendition of 'Away In A Manger (Forever Amen).'

This classic Christmas hymn in a favorite by many and the powerful words remind us all of the importance of Jesus' birth.

"Away in a manger no crib for His bed
The little Lord Jesus lay down His sweet head
The stars in the sky look down where He lay
The little Lord Jesus asleep on the hay"

Phil Wickham is a staple in the Christian music scene with hits such as 'This Is Amazing Grace' and 'Living Hope.' Now, he's releasing a Christmas album featuring some of our favorite holiday tunes.

Today, he's performing an acoustic version of 'Away In A Manger (Forever Amen)' and it's absolutely incredible to hear.

"I worship You Jesus for all of my days
The highest of praises be unto Your name
My God and my Savior my King and my Friend
Yours is the glory forever amen"

Christmas time always brings out the best in people. We are spending time with family and friends and remembering the real reason for the season. Jesus' birth paved the way for our path into Heaven.

Now, we are freed from our sins and can share His message of love and hope with the world.

Isaiah 9:6 "For to us a child is born, to us a son is given; and the government shall be upon his shoulder, and his name shall be called Wonderful Counselor, Mighty God, Everlasting Father, Prince of Peace."

Suggested For You
---
Related Videos
---
Today's Devotional
A Prayer to Be Sober-Minded - Your Daily Prayer - July 7
Top Artists