How Great Is Our God' String Quartet Performance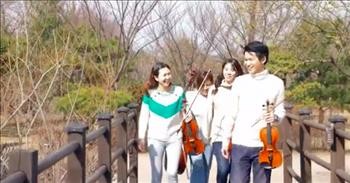 One string quartet gives a beautiful performance of the popular worship song 'How Great Is Our God' by Chris Tomlin. Check out the video and enjoy a peaceful time of worship.

"The splendor of a King, clothed in majesty
Let all the Earth rejoice
All the Earth rejoice
He wraps himself in light
And darkness tries to hide
And trembles at His voice
Trembles at His voice
How great is our God, sing with me
How great is our God, and all will see
How great, how great is our God"
The musicians who are performing are known as the Loben String Quartet. They are all so talented and love to use their musical gifts to play Christian hymns and songs. It is so wonderful to see artists use their talents to bring glory to our Heavenly Father!
The beautiful performance by the Loben String Quartet of 'How Great Is Our God' is so peaceful and serene. You can even hear birds chirping in the background of the video, making it even more peaceful. Some of the scenes in the video are shot from a drone, giving the viewer a wonderful sight of the string quartet playing from above.
The music has such a rich and lovely sound with all four of the string instruments playing, and everything about the video can just settle and calm your soul. During stressful times like these, it is so important to focus on things that can help settle anxieties. God's word and His promises are some of those important things that we can fix our eyes upon. We can worship Him and praise Him for His goodness, even when we are walking through times of uncertainty. He is our constant and our firm foundation.
Psalm150:6
"Let everything that has breath praise the Lord."
GodTube-Music

1151 views

2020-03-31T09:14:49

source: Loben String Quartet One string quartet gives a beautiful performance of the popular worship song 'How Great Is Our God' by Chris Tomlin. Check out the video and enjoy a peaceful time of worship.

"The splendor of a King, clothed in majesty
Let all the Earth rejoice
All the Earth rejoice
He wraps himself in light
And darkness tries to hide
And trembles at His voice
Trembles at His voice
How great is our God, sing with me
How great is our God, and all will see
How great, how great is our God"

The musicians who are performing are known as the Loben String Quartet. They are all so talented and love to use their musical gifts to play Christian hymns and songs. It is so wonderful to see artists use their talents to bring glory to our Heavenly Father!

The beautiful performance by the Loben String Quartet of 'How Great Is Our God' is so peaceful and serene. You can even hear birds chirping in the background of the video, making it even more peaceful. Some of the scenes in the video are shot from a drone, giving the viewer a wonderful sight of the string quartet playing from above.

The music has such a rich and lovely sound with all four of the string instruments playing, and everything about the video can just settle and calm your soul. During stressful times like these, it is so important to focus on things that can help settle anxieties. God's word and His promises are some of those important things that we can fix our eyes upon. We can worship Him and praise Him for His goodness, even when we are walking through times of uncertainty. He is our constant and our firm foundation.

Psalm150:6
"Let everything that has breath praise the Lord."

Today's Devotional
A Prayer for God's Presence - Your Daily Prayer - May 28
Top Artists