'Hosanna' Kari Jobe And The Belonging Co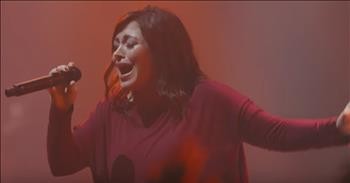 Award-winning Christian artist Kari Jobe joins with The Belonging Co. for a beautiful performance of 'Hosanna.'

These powerful words remind us that there is no one greater than our King in Heaven. We will continue to praise His Name and sing of His love and grace.
"Triumphant king
The lamb who was slain who rose in majesty
There's never a heart beyond Your victory
You are the one that we are welcoming
You are the one that we are welcoming, Oh"
The Belonging Co. is a Nashville church that formed in 2014. They describe themselves online saying, "We desire encounter over entertainment, intimacy over industry, presence over presentation, people over position... And most of all JESUS over everything."
Today, they are teaming up with beloved singer, Kari Jobe, for an incredible performance of 'Hosanna.' This Grammy-winning musician has been a staple in the Christian music scene for over nearly two decades.
She's given us hits such as 'Revelation Song' and 'The Garden.' Kari truly has a God-given talent for leading worship and it's so amazing to watch this live performance.
"Hosanna, Hosanna
In the highest forever
Hosanna, Hosanna
Hallelujah forever"
These lyrics speak of the power and glory of our God. There is truly nothing we cannot face when we have His almighty strength standing with us each step of the way.
Matthew 21:9 "And the crowds that went before him and that followed him were shouting, "Hosanna to the Son of David! Blessed is he who comes in the name of the Lord! Hosanna in the highest!"
GodTube-Music

1837 views

2019-09-11T15:31:12

source: The Belonging Co Award-winning Christian artist Kari Jobe joins with The Belonging Co. for a beautiful performance of 'Hosanna.'

These powerful words remind us that there is no one greater than our King in Heaven. We will continue to praise His Name and sing of His love and grace.

"Triumphant king
The lamb who was slain who rose in majesty
There's never a heart beyond Your victory
You are the one that we are welcoming
You are the one that we are welcoming, Oh"

The Belonging Co. is a Nashville church that formed in 2014. They describe themselves online saying, "We desire encounter over entertainment, intimacy over industry, presence over presentation, people over position... And most of all JESUS over everything."

Today, they are teaming up with beloved singer, Kari Jobe, for an incredible performance of 'Hosanna.' This Grammy-winning musician has been a staple in the Christian music scene for over nearly two decades.

She's given us hits such as 'Revelation Song' and 'The Garden.' Kari truly has a God-given talent for leading worship and it's so amazing to watch this live performance.

"Hosanna, Hosanna
In the highest forever
Hosanna, Hosanna
Hallelujah forever"

These lyrics speak of the power and glory of our God. There is truly nothing we cannot face when we have His almighty strength standing with us each step of the way.

Matthew 21:9 "And the crowds that went before him and that followed him were shouting, "Hosanna to the Son of David! Blessed is he who comes in the name of the Lord! Hosanna in the highest!"

Today's Devotional
A Prayer to Love When It's Inconvenient - Your Daily Prayer - November 17
Top Artists