'Because He Lives' Jimmy Fortune Live Performance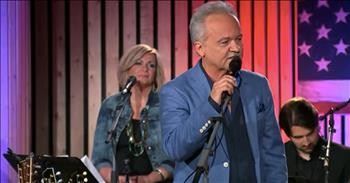 Country artist Jimmy Fortune performs a live rendition of the classic hymn 'Because He Lives.'

This iconic song has touched hearts all over the world for years and it continues to be an anthem of hope and light.
"Because He lives,
I can face tomorrow
Because He lives, all fear is gone
Because I know He holds the future
And life is worth the living
Just because He lives."
Jimmy Fortune has been a staple in the country music scene for decades. He started as a member of The Statler Brothers and toured with them for over 20 years. After his retirement from the band, he embarked on a successful solo career that included a hit gospel album.
Now, he's lending his voice to one of the most famous hymns of all time, 'Because He Lives.'
"How sweet to hold a newborn baby
And feel the pride and the joy he gives
But greater still the calm assurance
This child can face uncertain days because He Lives."
There is a better world waiting for us when we put our trust in Jesus. There is truly no obstacle that we cannot overcome with the strength of the Lord by our side.
These beloved words remind us that God is with us each step of the way. What an incredible blessing.
Who else is saying amen?
Acts 4:33 "With great power the apostles continued to testify to the resurrection of the Lord Jesus. And God's grace was so powerfully at work in them all."
GodTube-Music

3030 views

2019-09-06T15:07:59

source: Gaither Music TV Country artist Jimmy Fortune performs a live rendition of the classic hymn 'Because He Lives.'

This iconic song has touched hearts all over the world for years and it continues to be an anthem of hope and light.

"Because He lives,
I can face tomorrow
Because He lives, all fear is gone
Because I know He holds the future
And life is worth the living
Just because He lives."

Jimmy Fortune has been a staple in the country music scene for decades. He started as a member of The Statler Brothers and toured with them for over 20 years. After his retirement from the band, he embarked on a successful solo career that included a hit gospel album.

Now, he's lending his voice to one of the most famous hymns of all time, 'Because He Lives.'

"How sweet to hold a newborn baby
And feel the pride and the joy he gives
But greater still the calm assurance
This child can face uncertain days because He Lives."

There is a better world waiting for us when we put our trust in Jesus. There is truly no obstacle that we cannot overcome with the strength of the Lord by our side.

These beloved words remind us that God is with us each step of the way. What an incredible blessing.

Who else is saying amen?

Acts 4:33 "With great power the apostles continued to testify to the resurrection of the Lord Jesus. And God's grace was so powerfully at work in them all."

Today's Devotional
A Prayer for Reassurance - Your Daily Prayer - January 19
Top Artists