Christian Couple Caleb + Kelsey Sing 'You Are My Sunshine'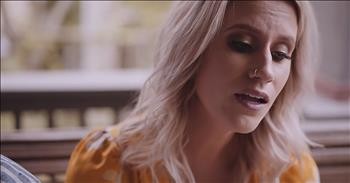 Talented Christian couple Caleb and Kelsey Grimm perform a beautiful rendition of 'You Are My Sunshine.' This sweet song is a favorite lullaby for many parents and the words speak to the love we have for our children.

"You are my sunshine, my only sunshine
You make me happy when skies are gray
You'll never know dear, how much I love you
Please don't take my sunshine away"
Today, Caleb + Kelsey are lending their voices to the beautiful song and it's absolutely amazing. As parents to two boys, this couple knows all about the love we have for our children.
Caleb and Kelsey are the perfect duo to sing 'You Are My Sunshine.' They always have a way of selecting the right songs to showcase their talented vocals and this performance is no different.
There's something about the backdrop of a nursery with the beautiful blending of their voices that truly makes this a powerful lullaby. This will certainly be a memory that their children cherish for a lifetime.
You can find this song and other favorites on Caleb and Kelsey's latest album, 'Sing Over Me: Songs For Parents And Their Little Ones.'
Psalm 127: 3-5 "3 Children are a heritage from the LORD, offspring a reward from him. 4 Like arrows in the hands of a warrior are children born in one's youth. 5 Blessed is the man whose quiver is full of them. They will not be put to shame when they contend with their opponents in court."
anthem-lights

852 views

2019-08-27T10:26:33

source: Anthem Lights Talented Christian couple Caleb and Kelsey Grimm perform a beautiful rendition of 'You Are My Sunshine.' This sweet song is a favorite lullaby for many parents and the words speak to the love we have for our children.

"You are my sunshine, my only sunshine
You make me happy when skies are gray
You'll never know dear, how much I love you
Please don't take my sunshine away"

Today, Caleb + Kelsey are lending their voices to the beautiful song and it's absolutely amazing. As parents to two boys, this couple knows all about the love we have for our children.

Caleb and Kelsey are the perfect duo to sing 'You Are My Sunshine.' They always have a way of selecting the right songs to showcase their talented vocals and this performance is no different.

There's something about the backdrop of a nursery with the beautiful blending of their voices that truly makes this a powerful lullaby. This will certainly be a memory that their children cherish for a lifetime.

You can find this song and other favorites on Caleb and Kelsey's latest album, 'Sing Over Me: Songs For Parents And Their Little Ones.'

Psalm 127: 3-5 "3 Children are a heritage from the LORD, offspring a reward from him. 4 Like arrows in the hands of a warrior are children born in one's youth. 5 Blessed is the man whose quiver is full of them. They will not be put to shame when they contend with their opponents in court."

Today's Devotional
A Prayer for Forgiving Others - Your Daily Prayer - May 26
Top Artists