Behind the Scenes Of Film 'The Best of Enemies'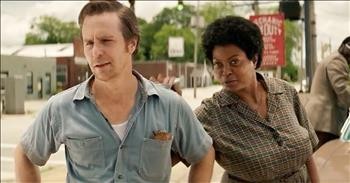 Stars Taraji P. Henson and Sam Rockwell share a behind the scenes look at their upcoming film 'The Best Of Enemies.' This powerful film is based on the true story of the unlikely friendship between Ann Atwater (Henson), an outspoken civil rights activist, and C.P. Ellis (Rockwell), a local Ku Klux Klan leader.

In the summer of 1971, the pair co-chaired a community summit, battling over the desegregation of schools in Durham, North Carolina. Despite their differences, the two started to communicate and learn more about each other. The incredible events that unfolded would change Durham and the lives of Atwater and Ellis forever.
Now, the two lead stars are sharing their thoughts on this timely film. Taraji P. Henson comments on the theme of the film by saying, "At the end of the day, the message is that love always wins." The film follows that radically-charged summer and an unlikely friendship that garnered nationwide attention. In theaters April 5, 'The Best Of Enemies' is sure to be a film you don't want to miss.
Matthew 5:43-48 "You have heard that it was said, 'You shall love your neighbor and hate your enemy.' But I say to you, Love your enemies and pray for those who persecute you, so that you may be sons of your Father who is in heaven. For he makes his sun rise on the evil and on the good, and sends rain on the just and on the unjust. For if you love those who love you, what reward do you have? Do not even the tax collectors do the same? And if you greet only your brothers, what more are you doing than others? Do not even the Gentiles do the same?"
godtube-movie-trailers

1229 views

2019-03-05T13:33:00

source: Grace Hill Stars Taraji P. Henson and Sam Rockwell share a behind the scenes look at their upcoming film 'The Best Of Enemies.' This powerful film is based on the true story of the unlikely friendship between Ann Atwater (Henson), an outspoken civil rights activist, and C.P. Ellis (Rockwell), a local Ku Klux Klan leader.

In the summer of 1971, the pair co-chaired a community summit, battling over the desegregation of schools in Durham, North Carolina. Despite their differences, the two started to communicate and learn more about each other. The incredible events that unfolded would change Durham and the lives of Atwater and Ellis forever.

Now, the two lead stars are sharing their thoughts on this timely film. Taraji P. Henson comments on the theme of the film by saying, "At the end of the day, the message is that love always wins." The film follows that radically-charged summer and an unlikely friendship that garnered nationwide attention. In theaters April 5, 'The Best Of Enemies' is sure to be a film you don't want to miss.

Matthew 5:43-48 "You have heard that it was said, 'You shall love your neighbor and hate your enemy.' But I say to you, Love your enemies and pray for those who persecute you, so that you may be sons of your Father who is in heaven. For he makes his sun rise on the evil and on the good, and sends rain on the just and on the unjust. For if you love those who love you, what reward do you have? Do not even the tax collectors do the same? And if you greet only your brothers, what more are you doing than others? Do not even the Gentiles do the same?"
Today's Devotional
A Prayer for Your Aging Parent - Your Daily Prayer - October 19
Top Artists