'Sometimes I Cry' Jason Crabb Performs Gospel Song Written By His Dad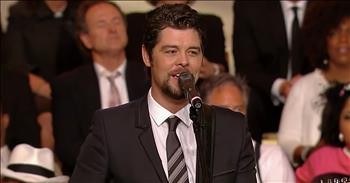 Talented Christian artist Jason Crabb performs a heartfelt rendition of 'Sometimes I Cry.' Jason's father, Gerald Crabb, wrote this incredible gospel song.

It reminds us that no one is immune to their emotions, but God is always there to see us through. We may stumble and fall, but he will always be there to comfort us each step of the way.
"But sometimes I hurt and sometimes I cry
Sometimes I can't get it right
No matter how hard that I seem to try
Sometimes I fall down
And I stumble over my own disguise
But I try to look strong
As the whole world looks on, sometimes alone I cry"
Jason was the lead singer of The Crabb Family band before they retired in 2007. Now, Jason is a Grammy award-winning solo artist leading the way with songs such as 'Love Is Stronger' and 'The Song Lives On.'
Today, he is at The Billy Graham Library in Charlotte, North Carolina for a live rendition of 'Sometimes I Cry.' It's so incredible to see other Christian artist sing along with this special song.
"And on the back of my old four-wheel drive Chevy
Is a fish and a cross for the world to see
'Cause I know my God is good, all of the time
Yes, there's no doubt for me"
Deuteronomy 31:8 "The LORD himself goes before you and will be with you; he will never leave you nor forsake you. Do not be afraid; do not be discouraged."
jason-crabb

2447 views

2019-07-22T15:09:59

source: Jason Crabb Talented Christian artist Jason Crabb performs a heartfelt rendition of 'Sometimes I Cry.' Jason's father, Gerald Crabb, wrote this incredible gospel song.

It reminds us that no one is immune to their emotions, but God is always there to see us through. We may stumble and fall, but he will always be there to comfort us each step of the way.

"But sometimes I hurt and sometimes I cry
Sometimes I can't get it right
No matter how hard that I seem to try
Sometimes I fall down
And I stumble over my own disguise
But I try to look strong
As the whole world looks on, sometimes alone I cry"

Jason was the lead singer of The Crabb Family band before they retired in 2007. Now, Jason is a Grammy award-winning solo artist leading the way with songs such as 'Love Is Stronger' and 'The Song Lives On.'

Today, he is at The Billy Graham Library in Charlotte, North Carolina for a live rendition of 'Sometimes I Cry.' It's so incredible to see other Christian artist sing along with this special song.

"And on the back of my old four-wheel drive Chevy
Is a fish and a cross for the world to see
'Cause I know my God is good, all of the time
Yes, there's no doubt for me"

Deuteronomy 31:8 "The LORD himself goes before you and will be with you; he will never leave you nor forsake you. Do not be afraid; do not be discouraged."

Today's Devotional
A Prayer for Awareness of Sin - Your Daily Prayer - October 21
Top Artists