The Booth Brothers Perform 'Three Wooden Crosses'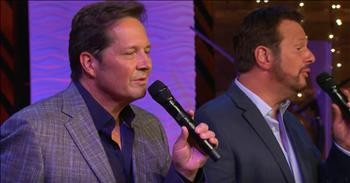 The Booth Brothers perform a stunning rendition of the Randy Travis hit, 'Three Wooden Crosses.'

The country superstar released this touching song on his 2002 album, Rise And Shine. It went on to win a Dove Award and CMA Award and was even nominated for a Grammy. The lyrics tell the story of four strangers traveling on a bus to Mexico.
After a traffic accident, three of the strangers pass away and only one survives. Throughout the song, we learn just the reason why there weren't four crosses on the road.
"There are three wooden crosses on the right side of the highway
Why there's not four of them, Heaven only knows
I guess it's not what you take when you leave this world behind you
It's what you leave behind you when you go"
Today, The Booth Brothers are at the Gaither Studios for a live rendition of this iconic song. For years, this gospel trio has lead worship with beautiful original songs and soul-filled covers.
Their performance of 'Three Wooden Crosses' reminds us of the amazing power and purpose that comes from our Lord in Heaven. Even when we may not understand a situation, God is in complete control.
Isaiah 55:8-11 "For my thoughts are not your thoughts, neither are your ways my ways, declares the LORD. For as the heavens are higher than the earth, so are my ways higher than your ways and my thoughts than your thoughts. "For as the rain and the snow come down from heaven and do not return there but water the earth, making it bring forth and sprout, giving seed to the sower and bread to the eater, so shall my word be that goes out from my mouth; it shall not return to me empty, but it shall accomplish that which I purpose, and shall succeed in the thing for which I sent it."
the-booth-brothers

2255 views

2019-07-19T15:04:28

source: Gaither Music TV The Booth Brothers perform a stunning rendition of the Randy Travis hit, 'Three Wooden Crosses.'

The country superstar released this touching song on his 2002 album, Rise And Shine. It went on to win a Dove Award and CMA Award and was even nominated for a Grammy. The lyrics tell the story of four strangers traveling on a bus to Mexico.

After a traffic accident, three of the strangers pass away and only one survives. Throughout the song, we learn just the reason why there weren't four crosses on the road.

"There are three wooden crosses on the right side of the highway
Why there's not four of them, Heaven only knows
I guess it's not what you take when you leave this world behind you
It's what you leave behind you when you go"

Today, The Booth Brothers are at the Gaither Studios for a live rendition of this iconic song. For years, this gospel trio has lead worship with beautiful original songs and soul-filled covers.

Their performance of 'Three Wooden Crosses' reminds us of the amazing power and purpose that comes from our Lord in Heaven. Even when we may not understand a situation, God is in complete control.

Isaiah 55:8-11 "For my thoughts are not your thoughts, neither are your ways my ways, declares the LORD. For as the heavens are higher than the earth, so are my ways higher than your ways and my thoughts than your thoughts. "For as the rain and the snow come down from heaven and do not return there but water the earth, making it bring forth and sprout, giving seed to the sower and bread to the eater, so shall my word be that goes out from my mouth; it shall not return to me empty, but it shall accomplish that which I purpose, and shall succeed in the thing for which I sent it."

Today's Devotional
A Prayer for Awareness of Sin - Your Daily Prayer - October 21
Top Artists