'Nothing Else' - Acoustic Performance From Cody Carnes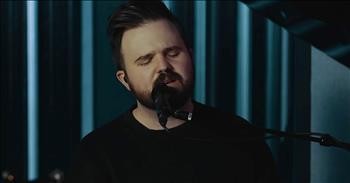 Christian artist Cody Carnes returns with a new single 'Nothing Else.' Carnes released his debut album in 2017 and now he's back with more worship music. You may know this incredible voice from songs such as 'Hold It All' or 'The Cross Has The Final Word.'

He is also married to award-winning musician, Kari Jobe. Together, they have penned numerous worship songs to give praise to His name. Today's performance features an acoustic set from Carnes and it's wonderfully moving.
"I'm caught up in Your presence
I just want to sit here at Your feet
I'm caught up in this holy moment
I never want to leave
Oh, I'm not here for blessings
Jesus, You don't owe me anything
More than anything that You can do
I just want You"
This performance from the New Song Café also features a behind the scenes look at the story of this tune. It's always interesting to hear how an artist conceived a piece and how God put the words on their heart. I cannot imagine life without Jesus in our hearts and these lyrics remind us of how amazing our Father truly is. He has given us so many blessings in this life and we are grateful for each and every one. What a perfect song to express these emotions.
John 1:14 "The Word became flesh and made his dwelling among us. We have seen his glory, the glory of the one and only Son, who came from the Father, full of grace and truth."
cody-carnes

7191 views

2019-01-10T16:15:39

source: Worship Together Christian artist Cody Carnes returns with a new single 'Nothing Else.' Carnes released his debut album in 2017 and now he's back with more worship music. You may know this incredible voice from songs such as 'Hold It All' or 'The Cross Has The Final Word.'

He is also married to award-winning musician, Kari Jobe. Together, they have penned numerous worship songs to give praise to His name. Today's performance features an acoustic set from Carnes and it's wonderfully moving.

"I'm caught up in Your presence
I just want to sit here at Your feet
I'm caught up in this holy moment
I never want to leave
Oh, I'm not here for blessings
Jesus, You don't owe me anything
More than anything that You can do
I just want You"

This performance from the New Song Café also features a behind the scenes look at the story of this tune. It's always interesting to hear how an artist conceived a piece and how God put the words on their heart. I cannot imagine life without Jesus in our hearts and these lyrics remind us of how amazing our Father truly is. He has given us so many blessings in this life and we are grateful for each and every one. What a perfect song to express these emotions.

John 1:14 "The Word became flesh and made his dwelling among us. We have seen his glory, the glory of the one and only Son, who came from the Father, full of grace and truth."
Today's Devotional
A Prayer for Friendship - Your Daily Prayer - February 22
Top Artists