Father Reads Touching Letter To Daughter On Wedding Day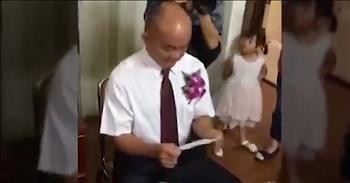 This loving father cannot hold back the tears as he reads a letter to his daughter on her wedding day. This Taiwanese dad is about to go through one of the most emotional days of his life. His daughter is getting married and he will have to give her away.

This is a moment that every father looks forward to but also dreads. They realize that their baby girl is all grown up and ready to start a new life with her soon-to-be husband. This father decided to write a letter to his son-in-law and recite it at their wedding. What resulted was a speech full of tears and love. "If there ever comes a day when you don't love her anymore, please don't tell her. Tell me. I will take her home," he recited through misty eyes.
After the video was posted online, social media quickly reacted to the special moment. This speech has been viewed over 25 million times and I'm sure just as many tears have been shed. This is definitely a moment that this young bride will cherish for a lifetime.
Matthew 19:4-6 "4 "Haven't you read," he replied, "that at the beginning the Creator 'made them male and female,' 5 and said, 'For this reason a man will leave his father and mother and be united to his wife, and the two will become one flesh'? 6 So they are no longer two, but one flesh. Therefore what God has joined together, let no one separate."
godtube-inspiration

1911 views

2019-01-08T12:03:04

source: South China Morning Post This loving father cannot hold back the tears as he reads a letter to his daughter on her wedding day. This Taiwanese dad is about to go through one of the most emotional days of his life. His daughter is getting married and he will have to give her away.

This is a moment that every father looks forward to but also dreads. They realize that their baby girl is all grown up and ready to start a new life with her soon-to-be husband. This father decided to write a letter to his son-in-law and recite it at their wedding. What resulted was a speech full of tears and love. "If there ever comes a day when you don't love her anymore, please don't tell her. Tell me. I will take her home," he recited through misty eyes.

After the video was posted online, social media quickly reacted to the special moment. This speech has been viewed over 25 million times and I'm sure just as many tears have been shed. This is definitely a moment that this young bride will cherish for a lifetime.

Matthew 19:4-6 "4 "Haven't you read," he replied, "that at the beginning the Creator 'made them male and female,' 5 and said, 'For this reason a man will leave his father and mother and be united to his wife, and the two will become one flesh'? 6 So they are no longer two, but one flesh. Therefore what God has joined together, let no one separate."
Today's Devotional
A Prayer for When Life Doesn't Turn Out the Way You Expect - Your Daily Prayer - June 18
Top Artists