'Good Grace' Hillsong UNITED Cover From Red Rocks Worship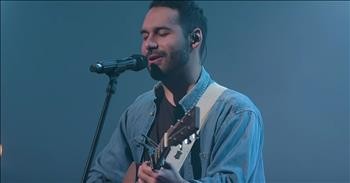 Red Rocks Worship performs a beautiful rendition of 'Good Grace.' Hillsong UNITED originally released this song and it touched hearts all over the world. The powerful lyrics remind us of His amazing love and grace.

'So don't let your heart be troubled
Hold your head up high
Don't fear no evil
Fix your eyes on this one truth
God is madly in love with you
So take courage
Hold on, be strong
Remember where our help comes from'
The members of Red Rocks Worship truly put all their passion into this performance. This talented group formed as a worship extension of Red Rocks Church in Colorado. Now, they are spreading God's message with songs such as
'How Beautiful Your Grace.'
Today, their stunning cover is leading others to Christ by showcasing some of the many blessings He has given us on this Earth.
'Jesus, our redemption
Our salvation is in His blood
Jesus, light of heaven
Friend forever, His kingdom come'
There is no doubt that this group has a heart for the Lord and they're using their talents to bring others closer to Him. This is the perfect worship song to give beautiful praise to His name. God is our light and our strength. With the Lord by our side there is truly nothing that can stand in the way.
Romans 15:13 "I pray that God, the source of hope, will fill you completely with joy and peace because you trust in him. Then you will overflow with confident hope through the power of the Holy Spirit."
hillsong-united

4655 views

2019-02-26T15:09:38

source: Red Rocks Worship Red Rocks Worship performs a beautiful rendition of 'Good Grace.' Hillsong UNITED originally released this song and it touched hearts all over the world. The powerful lyrics remind us of His amazing love and grace.

'So don't let your heart be troubled
Hold your head up high
Don't fear no evil
Fix your eyes on this one truth
God is madly in love with you
So take courage
Hold on, be strong
Remember where our help comes from'

The members of Red Rocks Worship truly put all their passion into this performance. This talented group formed as a worship extension of Red Rocks Church in Colorado. Now, they are spreading God's message with songs such as 'How Beautiful Your Grace.' Today, their stunning cover is leading others to Christ by showcasing some of the many blessings He has given us on this Earth.

'Jesus, our redemption
Our salvation is in His blood
Jesus, light of heaven
Friend forever, His kingdom come'

There is no doubt that this group has a heart for the Lord and they're using their talents to bring others closer to Him. This is the perfect worship song to give beautiful praise to His name. God is our light and our strength. With the Lord by our side there is truly nothing that can stand in the way.

Romans 15:13 "I pray that God, the source of hope, will fill you completely with joy and peace because you trust in him. Then you will overflow with confident hope through the power of the Holy Spirit."

Today's Devotional
A Prayer for Rest from the Need to Prove Ourselves - Your Daily Prayer - October 22
Top Artists