'Wild River' Phil Wickham House Sessions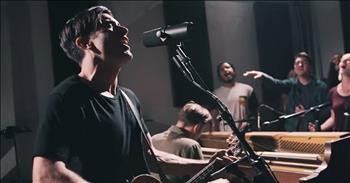 Christian artist Phil Wickham shares a special performance of his single 'Wild River.' This song was originally released on Phil's 2018 'Living Hope' album. Today, Phil is performing a "House Session" of this worship tune and it is truly one you do not want to miss.

"There is a fountain that never runs dry
Forever flows with water of life
You never stop moving
You never stop moving
Where Your river runs, everything lives
and here Your river goes will never thirst again
You never stop moving
You never stop moving"
God's love is truly amazing. He stands beside us no matter what and will never abandon us. Phil does a perfect job of sharing this message with the world through 'Wild River.' When we put our trust in the Lord, He lives within us and moves through us. There is nothing that can stand in our way when God is by our side. That is such a beautiful blessing and this song is an amazing way to sing praises to His name. Who else is singing the words out loud right now?
Romans 8:37-39 "37 No, in all these things we are more than conquerors through him who loved us. 38 For I am convinced that neither death nor life, neither angels nor demons, neither the present nor the future, nor any powers, 39 neither height nor depth, nor anything else in all creation, will be able to separate us from the love of God that is in Christ Jesus our Lord."
phil-wickham

2059 views

2019-02-26T10:33:46

source: Phil Wickham Music Christian artist Phil Wickham shares a special performance of his single 'Wild River.' This song was originally released on Phil's 2018 'Living Hope' album. Today, Phil is performing a "House Session" of this worship tune and it is truly one you do not want to miss.

"There is a fountain that never runs dry
Forever flows with water of life
You never stop moving
You never stop moving
Where Your river runs, everything lives
and here Your river goes will never thirst again
You never stop moving
You never stop moving"

God's love is truly amazing. He stands beside us no matter what and will never abandon us. Phil does a perfect job of sharing this message with the world through 'Wild River.' When we put our trust in the Lord, He lives within us and moves through us. There is nothing that can stand in our way when God is by our side. That is such a beautiful blessing and this song is an amazing way to sing praises to His name. Who else is singing the words out loud right now?

Romans 8:37-39 "37 No, in all these things we are more than conquerors through him who loved us. 38 For I am convinced that neither death nor life, neither angels nor demons, neither the present nor the future, nor any powers, 39 neither height nor depth, nor anything else in all creation, will be able to separate us from the love of God that is in Christ Jesus our Lord."
Today's Devotional
A Prayer for When Time Doesn't Heal a Broken Heart - Your Daily Prayer - July 2
Top Artists