Andrea Bocelli and Wife Veronica Perform Romantic Duet 'Qualche Stupido'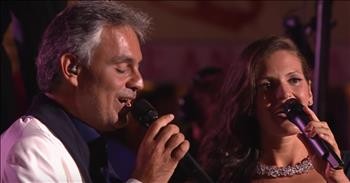 Andrea Bocelli and wife, Veronica joined together during one of his concerts to sing a well-known love song "Qualche Stupido". With his first album release in 14 years titled "Si", Bocelli has once again captured the hearts of listeners. We love seeing him enjoying his gift with his family, like recent hit "Fall On Me" sung with son Matteo.

"When we were in the studio making this album… we wanted somebody to demo it. Andrea said 'My beautiful love Veronica she sings'...we loved it so much that we begged her to do it with Andrea tonight." shared producer and pianist, David Foster.
Sitting at an intimate café table for two in the audience, Andrea and Veronica performed the sweet love song. Holding hands as they sang, it was so touching to see how much they loved each other and were enjoying this moment performing together! While the song is truly stunning sung in italian, the lyrics may be more recognizable in English:
"I know I stand in line, until you think you have the time
To spend an evening with me / And if we go someplace to dance, I know that there's a chance / You won't be leaving with me / And afterwards we drop into a quiet little place / And have a drink or two / And then I go and spoil it all, by saying something stupid / Like I love you"
About his marriage, Andrea told The Guardian "A successful relationship between two people is an art. There is a natural foundation to it. It is chemistry at play. There has to be a fatal attraction or boredom takes over, but the art lies in preserving this chemical fatal attraction and keeping it alive"
andrea-bocelli

41169 views

2018-11-13T11:36:00

source: Andrea Bocelli Andrea Bocelli and wife, Veronica joined together during one of his concerts to sing a well-known love song "Qualche Stupido". With his first album release in 14 years titled "Si", Bocelli has once again captured the hearts of listeners. We love seeing him enjoying his gift with his family, like recent hit "Fall On Me" sung with son Matteo.

"When we were in the studio making this album… we wanted somebody to demo it. Andrea said 'My beautiful love Veronica she sings'...we loved it so much that we begged her to do it with Andrea tonight." shared producer and pianist, David Foster.

Sitting at an intimate café table for two in the audience, Andrea and Veronica performed the sweet love song. Holding hands as they sang, it was so touching to see how much they loved each other and were enjoying this moment performing together! While the song is truly stunning sung in italian, the lyrics may be more recognizable in English:

"I know I stand in line, until you think you have the time
To spend an evening with me / And if we go someplace to dance, I know that there's a chance / You won't be leaving with me / And afterwards we drop into a quiet little place / And have a drink or two / And then I go and spoil it all, by saying something stupid / Like I love you"

About his marriage, Andrea told The Guardian "A successful relationship between two people is an art. There is a natural foundation to it. It is chemistry at play. There has to be a fatal attraction or boredom takes over, but the art lies in preserving this chemical fatal attraction and keeping it alive"
Today's Devotional
A Prayer for Your Aging Parent - Your Daily Prayer - October 19
Top Artists