'Broken Prayers' Riley Clemmons Official Music Video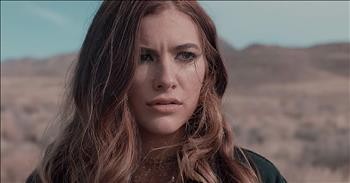 Christian artist Riley Clemmons reminds us all that God is our living hope with her song 'Broken Prayers.' This hit rose to the top of the Christian charts in 2017. Since that time, this 19-year-old has gained millions of fans all over the world for her inspirational songs and unique voice.

"You want my tears, every messy word
Every scar and every fear
You want all I have
With no holding back
When I'm hurt, at my worst
You meet me there
'Cause you see the beauty
In my broken prayers
In my broken prayers"
When speaking about the story behind this song, Riley said, "The song came from a place of truly finding peace in the fact that God takes you at your most broken, at your lowest place and at your roughest. And not only does He take you there but He delights in it. And He genuinely loves you in that place."
This song is such an important reminder that God stands beside us through it all. Despite our sins and shortcomings, the Lord still welcomes us with arms wide open. That is such a beautiful blessing and we use this song to give praise to His name. He always sees the beauty within. Amen!
Titus 3:4-5 "4 But when the kindness and love of God our Savior appeared, 5 he saved us, not because of righteous things we had done, but because of his mercy. He saved us through the washing of rebirth and renewal by the Holy Spirit,"
Embed

riley-clemmons

1129 views

2017-12-06T15:25:00

Christian artist Riley Clemmons reminds us all that God is our living hope with her song 'Broken Prayers.' This hit rose to the top of the Christian charts in 2017. Since that time, this 19-year-old has gained millions of fans all over the world for her inspirational songs and unique voice.

"You want my tears, every messy word
Every scar and every fear
You want all I have
With no holding back
When I'm hurt, at my worst
You meet me there
'Cause you see the beauty
In my broken prayers
In my broken prayers"

When speaking about the story behind this song, Riley said, "The song came from a place of truly finding peace in the fact that God takes you at your most broken, at your lowest place and at your roughest. And not only does He take you there but He delights in it. And He genuinely loves you in that place."

This song is such an important reminder that God stands beside us through it all. Despite our sins and shortcomings, the Lord still welcomes us with arms wide open. That is such a beautiful blessing and we use this song to give praise to His name. He always sees the beauty within. Amen!

Titus 3:4-5 "4 But when the kindness and love of God our Savior appeared, 5 he saved us, not because of righteous things we had done, but because of his mercy. He saved us through the washing of rebirth and renewal by the Holy Spirit,"
Today's Devotional
A Prayer for When Life Gets You Down - Your Daily Prayer - July 6
Top Artists