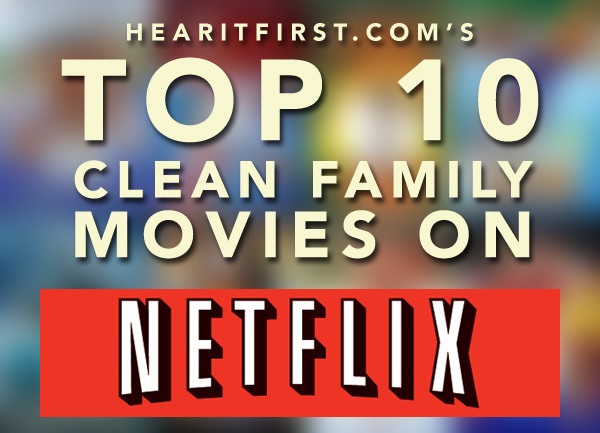 Do you watch movies on Netflix? There are countless films and T.V. shows to choose from, but I like perusing the Children & Family category that are available to watch instantly because I know most movies in this section are safe for my daughter to watch. VeggieTales, certain cartoons and countless Christmas shows have their time and place, but there are also great all-around clean movies that your family will love.
Here are the top 10 clean family movies on Netflix instant.
10. Lemonade Mouth
In this Disney Channel original movie, a group of teens form a band called Lemonade Mouth that becomes the voice for many other teens. The group first bonds while they are in detention. They are forced to stop playing, but find a way to get back up and prove that what they are doing means something.
9. Paulie
Paulie is a parrot that got himself in trouble one too many times because he can talk. He ends up traveling around the country and making friends while learning a few manners. Through his adventures, Paulie meets a pawn shop owner, Mexican-American troubadour and an elderly woman. Eventually, he winds up in a new facility that he can call home.
8. Little Red Wagon
Zach is eight years old and hears about the homeless in need in his area and decides to help those around him. He takes a wagon and collects donations around his neighborhood. This leads to more acts of kindness, starting a non-profit foundation and walking to the state capital. His mom is supportive every step, but his older sister is rebellious and it's clear that before they can help others, they need to fix their own problems.
7. Penelope
This is a movie about accepting yourself for who you are. Penelope was born with a pig nose, but she can break the curse if she finds a man to love her for whom she is. This proves to be more challenging than she expects and she learns how to love herself first.
6. The Perfect Game
Nine boys in Monterrey, Mexico who love baseball finds out there is a pro baseball coach in their community and they want to go to America to play. They get their opportunity and inspire people around the world while showing everyone that size and background does not matter.
5. Flicka Country Pride
Kelly is a teenager who works on her parent's horse stable, despite her mother's constant disapproval. They hire Toby (played by Clint Black) to help out and he brings his untamed horse Flicka. Kelly bonds with Flicka quickly and she has her eyes set on entering him in a race, but she has a lot of work ahead of her. The stable is losing money and stress levels are high, but Toby finds a way to solve some of the problems.
4. Turbo
Turbo is a snail that dreams about racing and, through an accident, he gets his big chance to go fast. He joins up with other snails and wants to race at the Indy 500, but there are many challenges in his way. This is a great movie that teaches kids to believe in themselves and follow their dreams.
3. The Lost Medallion: The Adventures of Billy Stone
Daniel (played by Alex Kendrick) visits his friend Ms. Sally who takes care of foster kids and ends up telling all the children a story. Two kids, Billy (played by Billy Unger) and Allie (played by Sammi Hanratty) look for the lost medallion on Aumakua Island. They find it and are immediately pursued. Billy decides to wear the medallion as he is about to show his archeologist father, but finds his pursuers are waiting for him inside his house. He wishes out loud that the medallion was never lost and because of it's powers, he and Allie are transported back years ago when the medallion first came about on the island. Through telling this story, Daniel is able to help the foster kids open up and realize what the true medallion is.
2. The Mighty Macs
The Might Macs tells the inspirational story of a basketball team at an all girls Catholic college and the coach that believed in them. Cathy Rush was a star player, but she has never coached basketball before. The college needs someone, so Cathy is hired. She then finds out that the gym recently burned down, but doesn't give up. Coach Rush break down walls with the nuns and players to show that women can become athletes and succeed. They end up surprising many people along the way.
1. Hachi A Dog's Tale
Professor Parker Wilson (played by Richard Gere) is walking through the train station one evening when he finds an abandoned puppy Akita. The two become best friends and Parker names the loyal dog Hachi. Hachi walks with him to the train station every day and waits for him to return from work. One day, Hachi shows signs of wanting to play fetch, but it was really a warning sign of a health problem that leads to Parker. Life changes forever, but Hachi doesn't know any different and continues to show his loyalty the rest of his life.
I love these movies because they carry a great blend of laughter, drama, courage and include a great message. Netflix Instant has a great selection of movies for all ages and interests. Other great titles to check out include A Mile In His Shoes, Holes, Lilo & Stitch, Disney's Atlantis The Lost Empire and Brother Bear. What are your favorite clean family movies?
Article by Elise Cleary
I am a Christian writer and editor that lives in northern Michigan and thoroughly enjoy music, movies, TV shows, books and other entertainment with a Christian focus. My favorite song is "Oceans" by Hillsong United because it reminds me that has big plans for me and everyone else who puts their trust in Him. There are many movies that have impacted my life, but a few include God's Not Dead, The Shunning and Letters to God. I also write for www.faithandentertainment.com and love connecting with readers, so please don't hesitate to contact me! When I'm not writing I enjoy watching movies and laughing with my busy toddler and husband.