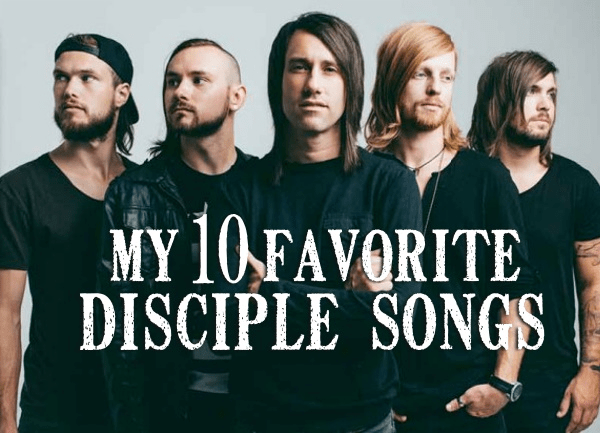 The Christian band Disciple has been rocking since 1992. They have experienced many successful hits, including "After the World," "Romance Me" and "Invisible." Many of their songs deal with the pain and heartache that we experience in this life and they send the message of God's healing and redemptive powers. They are not afraid of tackling the hard moments of life, like losing a friend too soon and running away from God. Attack was their last album, which was released in 2014 and they certainly are not slowing down as they wrapped up headlining the City Rockfest Tour with Seventh Day Slumber, Decyfer Down and Nine Lashes this past spring.
Here are my 10 favorite Disciple songs.
10. "Once and for All" from the Album O God Save Us All
That one little secret you have been keeping matters. It matters because it has become the weight you are dragging around. The fear and anxiety of this one little secret is controlling what you do and leading you to distance people. Releasing the secret means letting go and living easier. God loves you the same regardless, but He knows that this secret prevents you from fully experiencing His love. "Every little secret that I kept there, Locked inside my heart, Every single regret, every misstep, That kept me in the dark, But now I stand face to face, With the light of Your Grace, And all the weight of all my shame begins to fall, Once and for all."
9. "Worth the Pain" from the Album Horseshoes & Handgrenades
How exactly does faith work? It's what gets you through the hard times when your world is crashing around you. You cannot go through life without experiencing intense pain, but you do get to choose what you do in those moments. Will you allow God to shape you through the pain? Let others in and show empathy and love when you feel empty? "It's worth the pain, God's in the rain, It's not too late to start again, It's worth the pain, So hold on tonight."
8. "Game On" from the Album Scars Remain
People can be mean and try to play games that lead no where. These are times that don't make sense and it comes from the brokenness the other person is feeling. What can you do when words are thrown like darts? Take this Biblical insight from Disciple, "I'm not afraid of loving my enemies, Turning the other cheek, Blessing those that would curse me, I honestly want peace with you."
7. "Draw The Line" from the Album O God Save Us All
There's a reason why people say, "You are your own worst enemy." It's easy to listen to the voices that say you can't and you aren't enough when you are trying to go somewhere in life that seems challenging or impossible. God can get you there, so stop beating yourself up. Let go of your past and embrace your future. "This is where I draw the line, This is the where the old me dies, Light a match, let it burn, kiss it goodbye, Giving up what I was, This is where I draw the line."
6. "Deafening" from the Album Horseshoes & Handgrenades
Jonah wasn't the only one who tried running from God. The ironic part is that you can't physically run from God since He is everywhere. But, you can turn your heart from Him. Is this you? Blazing your own path to prove you can sounds adventurous, but the adventure will lead nowhere. God knows the best path for you since He created you. Run to Him instead of from Him. "I can still hear you say, You will never escape, How far my love can reach, And I need you to believe."
5. "Invisible" from the Album Horseshoes & Handgrenades
Anyone can feel invisible, but especially as a teenager. One year, one month and one mistake can seem to define you when four years of high school consumes your life. Don't buy into the lies that people want to spread and know that you aren't invisible or alone. God is always with you even during the long sleepless nights. "There's a place where the broken go, There's a room full of second changes, You're not stranded on your own, You're not invisible."
4. "Remedy" from the Album Horseshoes & Handgrenades
People turn to so many different remedies to heal their pain – physically and emotionally. Drugs, alcohol, bad relationships, unending drama. Addictions don't start out as that, but they slowly take you further than you intended on going. The best addiction is thirsting for God's word because it gives life, wraps you in truth and helps you surrender your past. "Oh, I've got to let go of the illusion, This is the end of me, You are my remedy, Oh, it's taking its toll – this pollution, This is the end of me, You are my remedy, Where you stop is where you'll start again."
3. "After the World" from the Album Scars Remain
There is one person who has counted your every tear and knows what triggered the flood within your soul. He knows everything about you from the times your heart shattered to the sunlight that shone brightly while you felt a peace beyond understanding. It was all God and it will always be Him who is there and showing His love through every step you take and when you take your last breath. "I'm the One that you've been looking for, I'm the One that you've been waiting for, I've had My eyes on you ever since you were born, I will love you after the rain falls down, I will love you after the sun goes out, I'll have My eyes on you after the world is no more."
2. "Things Left Unsaid" from the EP Things Left Unsaid
Losing a friend unexpectedly and far too soon is shocking and unfair. You had countless conversations over nothing really and spent hours laughing through meaningless games of Apples to Apples that mean the world now. The memories you made and adventures you planned out sting as you smile with tears streaming down your cheeks. It's okay to let go of this friend for now. "So goodbye for now, And I'll see you again, Some way, somehow, When it's my turn, To go to the other side, I'll hold you again."
1. "Dear X, You Don't Own Me" from the Album Horseshoes & Handgrenades
If you have gone through a season of loss, you know that the pain of grief can take you through a range of emotions and thoughts. You may see the world through shattered eyes with little hope for brighter times. Depression can grab hold and squeeze out the life that is now distant. This pain is just a season and you can overcome it with Jesus' healing balm renewed each day. "Go ahead, You're never gonna take me, You can bend, But you're never gonna break me, I was yours, But you're never gonna break me, I was yours, I'm not yours anymore, Oh, you don't own me."
Final Thoughts
Disciple has released 10 albums over the past two decades and they continue to perform and tour. So many of their songs have been incredibly impactful and full of healing. What is your favorite song from Disciple and when was the first time you saw them in concert? Follow them on Facebook and Twitter to stay updated on what's coming next!
The "Disciple Best Of" is Available Now With Exclusive Fan Voted Acoustic Tracks
Get it here → http://smarturl.it/DiscipleBestOfiTunes
Article by Elise Cleary
I'm a Christian writer and editor residing in northern Michigan and thoroughly enjoy Christian centered music, movies, TV shows and books. A favorite song is "Oceans (Where Feet May Fail)" by Hillsong United and I find many songs by Matt Maher, Tim Timmons, Third Day, Laura Story, Jeremy Camp and numerous other artists uplifting. A few of my favorite Christian movies include God's Not Dead, The Shunning, Do You Believe and many by the Kendrick brothers. When I'm not writing, I enjoy running, experimenting in the kitchen and spending time with my musically gifted husband and spunky daughter. I am so blessed and in awe of the work God is doing throughout the Christian entertainment industry.