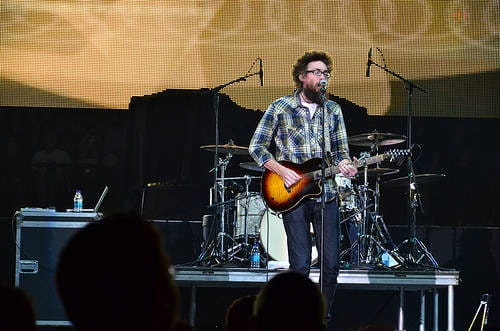 The David Crowder Band which disbanded in 2012 had been together since 1996 releasing 8 major studio albums. They were a six-piece Christian rock band that formed out of Waco, Texas. They had become one of the most listened to bands in Christian contemporary music today. Former members include Jack Parker, David Crowder, Jeremy "B-Wack" Bush, Mike Hogan, Mark Waldrop, Jason Solley, and Taylor Johnson. When they separated David Crowder was planning on starting a solo career, but has since shifted gears and has started a new group called "Crowder". The rest of the former band (excluding Mike Hogan) went on to form a group known as "The Digital Age". They have had many hit singles over the years, here is a list counting down the top 15 of all time from the former Christian group, The David Crowder Band.
15. Shadows F/Lecrae
Favorite Lyric- "Life is full of light and shadow. O the joy and O the sorrow, O the sorrow. And yet will He bring dark to light, and yet will He bring day from night."
14. Thank You For Hearing Me
Favorite Lyric- "Thank you for saving me. My Jesus I love thee. I know thou art mine."
13. Like A LIon
Favorite Lyric- "Let love explode and bring the dead to life. A love so bold, to see a revolution somehow."
12. Shine Your Light
Favorite Lyric- "Shine your light so I can see you. Pull me up I need to be near you. Hold me I need to feel loved."
11. I Saw The LIght
Favorite Lyric- "Just like a blind man I wandered alone. Worries and fear I claimed for my own. Then like a blind man who God gave back his sight. Praise the Lord, I saw the light."
10. After All
Favorite Lyric- "I can't comprehend your infinitely beautiful and perfect love. Oh I've dreamed dreams of majesty as brilliant as a billion stars. But they're never bright enough after all."
9. O Praise Him
Favorite Lyric- "Turn your ear to heaven and hear the noise inside. The sound of angels' awe, the sound of angels' songs. And all this for a King. We could join and sing, all to Christ the King."
8. Doxology
Favorite Lyric- "Praise God, from Whom all blessings flow. Praise Him, all creatures here below. Praise Him above, ye heavenly host. Praise Father, Son, and Holy Ghost."
7. The Glory Of It All
Favorite Lyric- "Oh, the glory of it all is He came here for the rescue of us all. That we may live for the glory of it all."
6. Oh, Happiness
Favorite Lyric- "Oh, happiness there is grace enough for us and the whole human race. From the full streams of Your care all who come begin again."
5. Never Let Go
Favorite Lyric- "In joy and pain, in sun and rain. You're the same oh, You never let go."
"The Truth" (Proverbs 31:10) An excellent wife who can find? She is far more precious than jewels. She looks well to the ways of her household and does not eat the bread of idleness. Her children rise up and call her blessed; her husband also, and he praises her.
4. Everything Glorious
Favorite Lyric- "My eyes are small but they have seen the beauty of enormous things. Which leads me to believe there's light enough to see."
3. Here Is Our King
Favorite Lyric- "From wherever spring arrives to heal the ground. From wherever searching comes(The look itself a trace of what we're looking for). So be quiet now…and wait the ocean is growing. The tide is coming in. Here it is…Here is our King."
2. How He Loves
Favorite Lyric- "He is jealous for me, loves like a hurricane, I am a tree. Bending beneath the weight of his wind and mercy. When all of a sudden, I am unaware of these afflictions eclipsed by glory. And I realize just how beautiful you are, and how great your affections are for me."
1. Let Me Feel You Shine
Favorite Lyric- "If I could feel You shine Your perpetual light. Then maybe I could crawl out of this tonight. If I could feel You shine, oh let me feel You shine. So beautiful and warm. So beautiful and bright. Like a sun coming out of a raining sky. Oh let me feel You shine."
Conclusion
As they say all good things must come to an end. That is definitely the case here as The David Crowder Band has certainly delivered some big hits and made some huge contributions to the Christian music community. Although it's unfortunate they broke up in 2012 they have cemented a legacy as one of the bands that led Christian music toward becoming the fastest growing genre in the music industry today. They will certainly be missed, but at least all members of the band will still be continuing their respective careers and will still be making music that glorifies God. Tell the F&E team in the comment section if we missed your favorite song from The David Crowder Band. God bless, Jesus is the one true king!
Check out the following link to see a top 15 list from a similarly popular Christian group, Casting Crowns!
Resources- The Holy Bible, English Standard Version"Scripture quotations are from The Holy Bible, English Standard Version® (ESV®), copyright © 2001 by Crossway, a publishing ministry of Good News Publishers. Used by permission. All rights reserved.", www.youtube.com, photo credit: kenbrynan via photopin cc