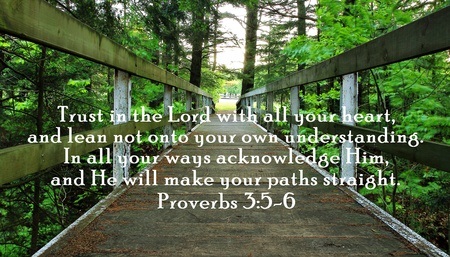 The Lord provides help to the hurting through His word. When pain or tragedy strikes, believers must learn to lean on and trust in God's word. There's hope and strength when we begin to build our faith on the solid truth. Use these 8 Bible verses when you need comfort:
Hurting from loss:
"Cast all your anxiety on him because he cares for you" (1 Peter 5:7).
Loss eventually visits all of us—it could be the loss of a loved one through death or separation, the loss of a job, or the loss of a reputation. The problem with loss is that it leaves a gaping hole in our hearts that doesn't seem like it will ever be filled again. However through the presence of the Holy Spirit, believers who pour out to God all their struggles will eventually discover His comfort and fullness with peace.
Hurting from loneliness:
"Be strong and courageous. Do not be afraid or terrified because of them, for the Lord your God goes with you; he will never leave you nor forsake you" (Deuteronomy 31:6).
Long ago in the Garden of Eden, Adam discovered that he was alone and God presented him with Eve. To this day the body of Christ thrives on her relationship with God and each other. While there may be seasons of isolation, believers can trust in the presence of God to infiltrate their lives on a daily basis. We are never alone in Christ even when we can't feel His presence.
Hurting from disappointment:
"And we know that in all things God works for the good of those who love him, who have been called according to his purpose" (Romans 8:28).
People will let us down and we will let people down. Disappointment drains the joy out of our lives especially if we were hoping for the miraculous. Every follower of Jesus Christ will experience this at some point in time. True comfort comes when there's a solid understanding that God is in control. Only the Lord can take disappointment and use it to teach, build, and restore His people for greater things.
Hurting from circumstances outside of your control:
"Trust in the Lord with all your heart and lean not on your own understanding; in all your ways submit to him, and he will make your paths straight" (Proverbs 3:5-6).
As much as we try, we can't manipulate our circumstances especially when it involves the decisions of others. We can argue about our unfair circumstances and resist letting go of those problems we can't work out. Yet it all comes down to trusting in the Lord with all our hearts even when the circumstances are shouting differently. Our growing trust in God during this spiritual journey will only build our faith in ways we could've never imagined.
Hurting from lies, gossip, or slander:
"Blessed are you when people insult you, persecute you and falsely say all kinds of evil against you because of me. Rejoice and be glad, because great is your reward in heaven, for in the same way they persecuted the prophets who were before you" (Matthew 5:11-12).
Satan is the mastermind behind divisions that spring out of lies, gossip, and slander. Those who submit to the devil's promptings are blinded from the truth. We could strike back with evil words and actions—or we could bless and trust in God to take care of it. The blessings of God on those who refuse to return insult for insult is manifested in this lifetime and rewarded in the next.
Hurting from rejection:
"Though my father and mother forsake me, the Lord will receive me" (Psalm 27:10).
Rejection is difficult to overcome whether from family, friends, or strangers. Those who've experienced rejection often come to the place of asking "What's wrong with me?" In Christ Jesus, there is complete acceptance for the believers. His grace encompasses such great love that those who feel rejected can be empowered through the Holy Spirit to help others struggling with rejection.
Hurting from failure:
"'For I know the plans I have for you,' declares the Lord, 'plans to prosper you and not to harm you, plans to give you hope and a future'" (Jeremiah 29:11).
At some point in time, all of us will fail eventually. Some failures can have a tiny trickle effect, while others bring a sunami of pain that takes years of healing. However what we may call failure, God calls growing pains. He allows the right situations in our lives to bring us to a place of spiritual maturity. The overall picture is that God has a wonderful plan for each of those who follow and trust in Him.
Hurting from unanswered prayers:
"This is the confidence we have in approaching God: that if we ask anything according to his will, he hears us. And if we know that he hears us—whatever we ask—we know that we have what we asked of him" (1 John 5:14-15).
Many people have walked away from the faith because of unanswered prayers. Unfortunately if they would've remained solidly in the faith, they could've discovered the answered prayer in God's timing. The Lord always answers the prayers of the righteous with a yes, no, or wait. In every unique situation, He is answering prayers according to His great will for all of mankind and not just individuals.
Where do you find your comfort?
"But the Comforter, which is the Holy Ghost, whom the Father will send in my name, he shall teach you all things, and bring all things to your remembrance, whatsoever I have said unto you" (John 14:26, KJV).
Some people look outside of the faith for comfort when they are hurting. Many times this adds more problems to their situation. Comfort during the days of hurt come from the Lord through the gift of the Holy Spirit. Allow the Spirit of God to guide you through the hurting times until it becomes a testimony of His grace on your life.
Article by Crystal McDowell
Crystal McDowell is a writer, speaker, and teacher with a passion to encourage believers to know and grow in their relationship with Jesus Christ through practical application of God's word.
Crystal and her husband, Marshall, raise their five children in the Bloomington, IL. As a freelance writer and editor for over 13 years, Crystal has published numerous Christian curriculums for Sunday School and VBS as well as many articles dealing with marriage, motherhood, and relationships. She's a weekly staff writer for www.whatchristianswanttoknow.com as well as writing her own blog at http://crystalmcdowellspeaks.blogspot.com.