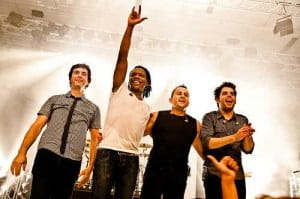 I don't consider myself a great singer, but I love to sing karaoke! It's a great way to have fun, learn about your friends and even find some hidden talent. What makes a song a great karaoke song? The best songs need to be well known (so others can laugh when you mess up), energetic and fairly short. If you aren't a talented singer, you might want to choose songs with repeating lyrics. God loves to hear our singing, so no matter how talented you are, remember to sing with praise to God. You never know, you might actually nail some high notes along the way!
Here's my list of the top 20 Christian karaoke songs.
"The Truth" (Jeremiah 29:11) For I know the plans I have for you, declares the LORD, plans for welfare and not for evil, to give you a future and a hope.
#20 Good Morning – Mandisa
I wouldn't recommend this song for the beginner, but it has a great beat to it. It can be challenging because the beat changes and there are quite a few lyrics to learn.
#19 Beautiful, Beautiful – Francesca Battistelli
Although this song starts out slow, it quickly picks up the pace! This one is a little more vocally challenging in the chorus.
#18 O Praise Him – David Crowder Band
The words work well with the slower melody and the chorus is what makes the song a must sing in karaoke. It can be challenging to follow if you don't know the song well, so you'll need to practice before jumping onto the stage.
#17 City on Our Knees – Toby Mac
The pace is upbeat and easy to follow, but the chorus can be difficult to negotiate. The words are fairly easy to follow and flow well with the song.
#16 You are Everything – Matthew West
With a fast, upbeat flow to get started, it's a great song to get the crowd's attention. The chorus is easy to follow and allows you to it belt out.
#15 How Great is Our God – Chris Tomlin
Many people know this song since it was a big hit when it first came out. The melody is even, so it's fairly easy to follow even if you don't know all the lyrics.
#14 Glorious Day – Casting Crowns
This song tells a great message and since it's well known, it's easy to sing. The chorus is faster, but the majority of the song is slower.
#13 Until the Whole World Hears – Casting Crowns
If you are looking for an edgy rock song, this is a great pick. Your voice won't get lost in the music and the energy kicks up in the chorus.
#12 Strong Tower – Kutless
This one is shorter than some of the previous songs and is fairly upbeat throughout the song. The lyrics don't repeat, so you might want to practice this one a few times.
#11 My Savior My God – Aaron Shust
This song starts out slow, but builds energy to the chorus. The lyrics are easy to follow and your voice doesn't need a lot of range to hit the notes. Remember to take a few breaths when repeating chorus!
Top Ten Songs!
"The Truth" (1 John 3:1) See what kind of love the Father has given to us, that we should be called children of God; and so we are.
#10 Your Love – Brandon Heath
This song is easy to sing and you can connect with the audience. It's overall a little more mellow, but the chorus repeats quite a bit and it picks up the pace toward the end of the song.
#9 Overcome – Jon Egan
As a popular worship tune, you might find the crowd singing with you! This is an overall great choice since it's easy to follow, not as vocally challenging and is just the right length. You can also put your own spin on some of the notes, which will make you more unique as a karaoke singer.
#8 God's Not Dead – Newsboys
Get ready for a high-energy performance with this song. The lyrics are easy to sing and they fit the flow of the melody. The beat slows down around halfway through and explodes into an energetic ending.
#7 Live Like That – Sidewalk Prophets
As a fairly new song, this one has captured a large audience quickly. It's shorter than some of the others and it holds your attention through the chorus. This is an excellent choice for a high-energy performer.
#6 Lead Me – Sanctus Real
This is a favorite one to sing to because of the strong chorus and it connects to many people in the audience. There are quite a few lyrics, but it flows nicely.
Top 5 Songs!
"The Truth" (Psalms 27: 1) The Lord is my light and my salvation; whom shall I fear? The Lord is the stronghold of my life; of whom shall I be afraid?
#5 All This Time – Brit Nicole
I like this pick because you can feel the emotion through the words. The beat is easy to follow and it carries consistent energy, making it my #5 pick.
Favorite lyrics: Ever since that day, it's been clear to me, That no matter what comes, You will never leave, I know You're for me, and You're restoring, Every heartache and failure, Every broken dream.
#4 I Refuse – Josh Wilson
Coming in at #4, the lyrics match the melody well, making it easier to sing. It does not require a huge vocal range, but gives you the opportunity to add your own touch.
Favorite lyrics: To sit around and wait for someone else, To do what God has told me to do myself, Oh I could choose not to move, but I refuse.
#3 Do Everything – Steven Curtis Chapman
If rap is your style, this one is very close and my #3 pick. There are a lot of lyrics, but they are well balanced with the high energy melody.
Favorite lyrics: Cause He made you, To do, Every little thing that you do, To bring a smile to His face, Tell the story of grace, With every move that you make, And every little thing that you do.
#2 Courageous – Casting Crowns
The lyrics are simple and the chorus helps break up the song, making it an easy one to follow. It's a great song to start on when first starting karaoke, making it my #2 pick.
Favorite lyrics: Where are you, men of courage? You were made to be so much more, Let the pounding of our heart cry, We will serve the Lord.
And my #1 pick goes to...

#1 Get Back Up – Toby Mac
This song is at the top of my list for energy, length and lyrics that everyone knows! Joyful is what comes to mind when I hear the beat. The chorus is very catchy, which makes it a great song for an audience to sing along with. Bring a little attitude, some fist pumps and your crowd will love you!
Favorite lyrics: One day, you gonna shine again, You may be knocked down but not out forever, Lose our way, get back up again. So get up, get up!
What's your pick?
Go ahead, sing a few of these songs and let me know which ones would make your top five list! Above all, praise God and you will have a great time.
Resources- The Holy Bible, English Standard Version"Scripture quotations are from The Holy Bible, English Standard Version® (ESV®), copyright © 2001 by Crossway, a publishing ministry of Good News Publishers. Used by permission. All rights reserved.", www.youtube.com, photo credit: breezy421 via photopin cc