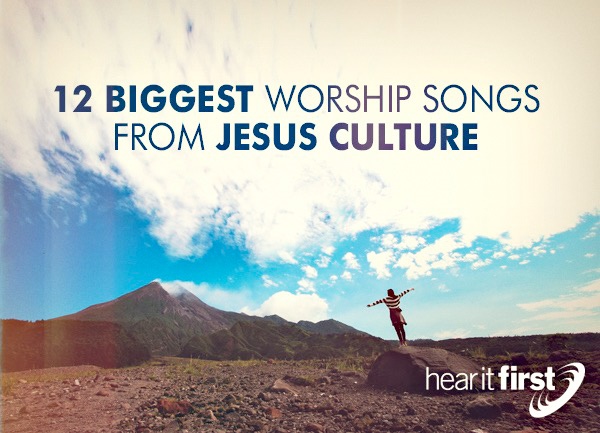 Have you heard of the Jesus Culture movement? Their music has swept the world, reaching millions, while leading people into an encounter with God's love through worship and discipleship. Based in Sacramento, CA, they are led by Senior Team director Banning Liebscher. In addition to holding conferences around the world, they have sold more than 1 million albums and gained more than 3.8 million followers on social media. The Jesus Culture Music label contains 12 artists including Jesus Culture Band, Kim Walker-Smith, Bryan and Katie Torwalt, Chris Quilala, Kristene DiMarco, Derek Johnson, Chris McClarney, and several others. The newest release, This Is Jesus Culture, features a collection of the 12 biggest songs from Jesus Culture including two new live recordings – "Agnus Dei" and "Show Me Your Glory." Check out the preview below and pick up the album here.
Here are the 12 biggest worship songs from Jesus Culture:
12. "Show Me Your Glory"
If you seek God's glory you will find it. He is everywhere all the time. He is near in your heartache and guides you when you turn the wrong way. He is there in every joy of life.
Favorite Lyrics
I'm marked by Your beauty, lost in Your eyes
I want to walk in Your presence like Jesus did
Your glory surrounds me and I'm overwhelmed
I'm not afraid
I'm not afraid
11. "Rooftops"
This song is all about proclaiming how awesome and powerful God is. He really is the only one you can shout and proclaim about on rooftops. You are secure in Him.
Favorite Lyrics
So I shout out Your name, from the rooftops I proclaim
That I am Yours, I am Yours
All that I am, I place into Your loving hands
And I am Yours, I am Yours
10. "Fill Me Up"
If you are feeling down, turn your heart to God and ask Him to fill you up. He can work through you and fill you with His spirit to help you overcome obstacles you face everyday.
Favorite Lyrics
You provide the fire
I'll provide the sacrifice
You pour out your spirit
And I will open up inside
9. "Where You Go I Go"
When God is working through you in your everyday life, God is speaking through you, praying through you, walking through you. It requires devotion to reach this level of faith and fearlessness in order to embrace what God's calling is for your life.
Favorite Lyrics
Where You go I go
What You say I say
What You pray I pray
What You pray I pray
8. "Agnus Dei"
Singing and believing "worthy is the lamb" means you are realizing the sacrifice Jesus' made and fully accepting it. Jesus was and is enough. We are not worthy, but He is.
Favorite Lyrics
Worthy is the Lamb

Worthy is the Lamb

You are holy
7. "One Thing Remains"
God is constant, fully alive, and awake to what's happening in your life – right now. His "love never fails, it never gives up, it never runs out on" you. His love is perfect and all encompassing.
Favorite Lyrics
On and on and on and on it goes
It overwhelms and satisfies my soul
And I never, ever, have to be afraid
One thing remains
6. "Set a Fire"
Have you had a feeling in your heart that you know is from God? Maybe it's a calling for where you will work. Maybe it's intense love for someone who has been difficult to deal with. Maybe it's redemption in an area that seems impossible. Ask God to set a fire deep within your soul.
Favorite Lyrics (All the lyrics)
There's no place I'd rather be
There's no place I'd rather be
There's no place I'd rather be
Than here in your love, here in your love

So set a fire down in my soul
That I can't contain and I can't control
I want more of You God, I want more of You God.
5. "Break Every Chain"
Do you believe in the power of Jesus to break every chain in your life? Chains can come in the form of worrying about what other people think of you. Chains can tell you that your voice doesn't matter. Chains can bind you to following through on obligations you know you shouldn't agree to.
Favorite Lyrics
There is power in the name of Jesus
There is power in the name of Jesus
There is power in the name of Jesus

To break every chain
Break every chain
Break every chain
4. "Holy Spirit"
You can't buy the Holy Spirit. You can't bribe it. You can't even impress it. It will guide you in ways that are clear and intentional. Let your soul cry out "Holy Spirit you are welcome here."
Favorite Lyrics
Holy Spirit You are welcome here,
Come flood this place and fill the atmosphere.
Your glory God is what our hearts long for,
To be overcome by Your presence, Lord.
3. "Unstoppable Love"
God doesn't stop pursuing you because He loves you so much. Nothing can separate you from God's love.
Favorite Lyrics
God, You pursue me, with power and glory
Unstoppable love that never ends
You're unrelenting, with passion and mercy
Unstoppable love that never ends
2. "How He Loves"
Do you know how much affection and love God has for you? It's beyond what we can humanly imagine and see, but it's a feeling that when it reaches your soul is more comforting and uplifting. No hurricane can uproot you when embraced by God's love.
Favorite Lyrics
He is jealous for me
Love's like a hurricane, and I am a tree
Bending beneath the weight of His wind and mercy
When all of a sudden,
I am unaware of these afflictions eclipsed by glory
And I realize just how beautiful you are and how great your affections are for me.
1. "Your Love Never Fails"
God's love never fails us regardless of how much pain and suffering we go through. I believe pain and hard times in life show you just how much God loves you. You may be at the end of your rope, but God's rope is endless.
Favorite Lyrics
You stay the same through the ages
Your love never changes
There maybe pain in the night but joy comes in the morning

And when the oceans rage
I don't have to be afraid
Because I know that You love me
Listen to these songs on Spotify
Jesus Culture Breakout Artist Derek Johnson
Derek Johnson is a member of Jesus Culture in Sacramento and has just released a new album called Real Love. It features hit songs "I Belong to You" (Live) and "Let It Go" (Live). Watch the video below and breathe in the powerful message God is using Him to spread with the song "The One We Love". As with other Jesus Culture breakout artists, the music is unique and brings your thoughts to how to keep God as your first love. You can view all the songs on Derek's new album and purchase it here.
Article by Elise Cleary
I am a Christian writer and editor that lives in northern Michigan and thoroughly enjoy music, movies, TV shows, books and other entertainment with a Christian focus. My favorite song is "Oceans" by Hillsong United because it reminds me that has big plans for me and everyone else who puts their trust in Him. There are many movies that have impacted my life, but a few include God's Not Dead, The Shunning and Letters to God. When I'm not writing I enjoy watching movies and laughing with my busy toddler and husband.