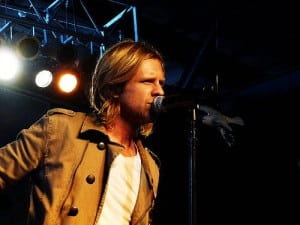 This is an exciting year for music lovers. Several of Christian music's biggest names are releasing new albums, while a few up and comers are set to make a name for themselves in 2014. Its always a thrill to discover a new favorite or fall even more in love with an artist whose last album you played on endless repeat. This year you'll have endless opportunities to do both. Below is my list of the albums I can't wait to hear, from the performers who will most likely have me singing along all the way up to 2015.
 

 

10. City Harbor-City Harbor-February 4th, 2014

 

 
Newly formed duo, City Harbor, is made up of established songwriters, Molly Reed and Mike Earle. The band's debut, self-titled album is based on Bible verse Matthew 11:28, "Come to Me all who are weary, and I will give you rest." Their latest single, Come However You Are, continues that message with lyrics encouraging listeners to lay it all "down at the Cross." If your 2014 is about looking on the bright side, City Harbor is sure to become your new favorite band.
 

 

9. Colton Dixon- A Messenger (expanded edition)-January 7th

 

 
Former American Idol finalist, Colton Dixon, released his debut album, The Messenger, late last year. Due to overwhelming success and fan request, the album has been expanded and re-released. If you haven't yet picked up the original, or even if you already have it in your collection, the expanded version is worth picking up. It includes two previously unreleased songs as well as four remixes of favorites.
 

 

8. Jason Dunn-Abandon Progress-The Paradigm Collective-March 11th (Formerly of Hawk Nelson)

 

 
Jason Dunn, former lead singer and founder of Hawk Nelson, is releasing his first solo project. While staying true to his former band's roots, Dunn manages to sound fresh and newly inspired. Whether or not you are a Hawk Nelson fan, Abandon Progress is worth picking up in 2014.
 

 

7. Rebecca St. James- Icon/Best of Rebecca St. James-January 7th

 

 
Rebecca St. James is considered an icon in the Christian music world so it's fitting that her new greatest hits album carries the same title. Featuring songs such as, Here I Am, Pray, and Reborn, this compilation further showcases why St. James has remained a force on the Christian music scene for over a decade.
 

 

6. Casting Crowns-Thrive-January 28th

 

 
Casting Crowns 7th studio album was inspired by the band's work in youth ministry. The songs on the record, as well as the accompanying book, explore the themes of "Reaching Out" and "Digging Deep". Band members say that they hope to encourages listeners and readers alike to do more than trudge through life and instead to tap into who God is and who we are in Him.
 

 

 

5. Switchfoot-Fading West-January 14th

 

 
The new release from Switchfoot shares a name with the band's recently released rockumentary. Fading West, the movie, chronicles the group's 2012 world tour and gives viewers a peek into the earliest stages of the albums production. Switchfoot members spoke of finding themselves on this tour and it will be interesting to hear those experiences play out in the new album.
 

 

4. Canton Jones-God City U.S.A-Spring 2014

 

 
Canton Jones hasn't released a new album since 2011's Domininaire, and fans are eagerly awaiting new music from this hip hop artist, known by listeners as CaJo. His style is a unique combination of R&B, Hip-Hop and Gospel, and though his messages are intense, his language and beats make his music suitable for the entire family. You're sure to play this one on repeat.
 

 

3. Crowder-Neon Steeple-February 8th

 

 
Though the David Crowder band broke up last year, David Crowder himself has continued to tour and produce music. His first solo album, Neon Steeple, showcases the voice that made the band so beloved, and includes beloved gospel favorites along with new material. Crowder has never been afraid to put his own stamp on beloved favorites and it pays off in a big way. One of my most exciting releases of the year.
 

 

2. Jamie Grace-Ready to Fly-January 28th

 

 
Jamie Grace is a favorite in our family for her ability to write music that speaks to both my 3 year old daughter (she still runs around the house shouting "Im a God Girl!" at the top of her lungs) as well as her parents. Hers is the music we dance in the kitchen to while supper is being prepared. If the first songs released from her sophomore album are any indication, I believe my kitchen floor wont be getting any rest in 2014.
 

 

1. God's Not Dead-Soundtrack-Various Artists-March 4th, 2014

 

 
One of 2014's most anticipated new films, God's Not Dead, is accompanied by a soundtrack that is number one on my list of most anticipated new albums. Various artists such a s Newsboys, Tricia Brock and Manic Drive, all contribute to a soundtrack that will only increase the excitement for the movie release. Also included is the debut single, "Hold You Up" from the movies star, Shane Harper. With the variety of talent included in this project, and the impact of a message that is increasingly needed, this soundtrack could prove pivotal in reminding the public that God is indeed alive and at work in 2014.
 

 

Final Thoughts:

 

 
With the variety of great artists releasing albums in 2014, this list could have gone on forever. Between debuts and greatest hits, there is sure to something for everyone this year. Please feel free to tell me the albums you can't wait to get your hands on and together we'll be singing praise and dancing all the way to the New Year.
 Related Post- 10 Christian Concerts I Would Love To Go To
Resources- Youtube, Photo Credit: hopes_unbroken via Compfight cc