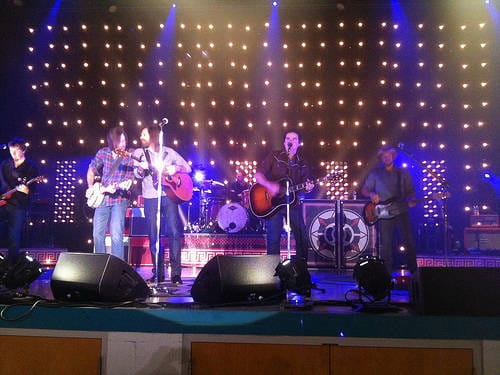 This is probably a bit of a hornets nest but it will be fun for me to write about. There are hundreds of amazing Christian albums released every year and with the freedom of the internet so many great albums are accessible to so many people that the Christian music scene has skyrocketed. So here are my choices for the top 25 Christian albums of all time and just as a heads up Third Day will make several appearances because they're my favorite…
 

 

# 25 Redemption Songs – Jars of Clay

 

 
A wonderful ode to classic hymns done with the unique styling's of Jars of Clay a must have for fans of the group and anyone who likes to hear hymns done with a different flavor.
 

 

# 24 Speechless – Steven Curtis Chapman

 

 
Probably the crowning achievement of Chapman's career this is an amazing testament to his talent and the work God has done through him over the years.
 

 

# 23 Loving God Loving Each Other – Gaither Vocal Band

 

 
Not many people could forget or not enjoy a Gaither homecoming and this album was the first of theirs that I ever received and it is still my favorite Gaither offering.
 

 

 

# 22 Third Day – Third Day

 

 
The band's debut album is a little low on the list for me but it is still a fantastic southern rock and worship album and if you don't own it you should.
 

 

# 21 It's Pronounced Five Two – KJ-52

 

 
While I am not a big rap fan KJ-52 has given a wonderful alternative to mainstream artists like Eminem and has done so with style and grace. It's Pronounced Five Two is a prime example of that.
 

 

# 20 Live in Concert: Welcome To The Freak Show – D.C. Talk

 

 
After the release of the album Jesus Freak D.C. Talk released this live concert version and it is the definitive D.C. Talk album. If you own nothing else by them get this!
 

 

# 19 Between the Dreaming and the Coming True – Bebo Norman

 

 
With one of the greatest songs of all time "I Will Lift My Eyes" this Bebo offering brought him to center stage and showed us why he deserves to be on any list of top Christian artists.
 

 

# 18 Winter Fall Summer and Spring EP's – Jon Foreman

 

 
The Switchfoot front man released these hauntingly original acoustic ep's that showed a different side of his musical ability and faith. Any Switchfoot fan (and anyone who loves acoustic albums) needs this four disc collection.
 

 

# 17 Much – Ten Shekel Shirt

 

 
A beautiful worship album with 10 melodic and original songs that give us something we want to sing along to.
 

 

# 16 God – Rebecca St. James

 

 
This early offering from Rebecca showed us what she's made of and made her a household name in Christian music.
"The Truth" Romans 5:10 For if while we were enemies we were reconciled to God by the death of his Son, much more, now that we are reconciled, shall we be saved by his life.
 

 

# 15 Tonight – Toby Mac

 

 
Post D.C. Talk Toby Mac showed the music world where much of the Talk's talent came from. Not to put down the other two members of the band who have gone on to do some wonderful work but Toby Mac, in his solo efforts, has made a huge splash in Christian music. And who doesn't like "Funky Jesus Music"?
 

 

# 14 Momento Mori – Flyleaf

 

 
Christian faith and hard rock with beautiful vocals by a great lead singer in Lacey Strum this is this quintessential hard rock Christian album. Even with her departure from the group Flyleaf will continue to give the Christian music world inspirational offerings.
 

 

# 13 Unbreakable - Fireflight

 

 
So we could maybe flip 14 and 12 if we needed to by Fireflight offers us another inspiring look at a female lead in the hard rock and metal world of Christian music. Hitting the music scene big time when their hit "Unbreakable" was used in a short lived tv show they have powered their way to the top and keep giving us great music.
 

 

# 12 Glory Revealed I & II – Glory Revealed (Various Artists)

 

 
These two albums, filled with songs based on Scripture, are two of the greatest worship albums of all time and showed some amazing talent in using the Word of God in song.
 

 

# 11 Unplugged – Jeremy Camp

 

 
The Southern California worship leader turned mega-star hit the scene with some wonderful work shortly after the death of his first wife. This collection of his work performed live with an acoustic focus is an outstanding worship album and shows why he has remained a staple in Christian music.
 

 

# 10 Ellie Holcomb – Magnolia

 

 
There are not many people who I know who have heard of her but this short album with songs based on Scripture and her distinctive voice will leave you wanting to hit repeat all and sit back and listen.
 

 

# 9 Give Us Rest – David Crowder Band

 

 
The group's final offering shows us why they were one of the best for so long. This is an outstanding collection and demonstration of what the DC*B is capable of.
 

 

# 8 Acoustic Sessions – Kari Jobe

 

 
This little ep that gives us Kari in an acoustic setting is an exceptional worship album where she shares some of her more popular songs in a different format.
 

 

# 7 The Reckoning – Need to Breathe

 

 
Need to Breathes latest album with one of my favorite songs "Eyes Wide Open" is a prime example of this great band's talent and what they add to the Christian music community.
 

 

# 6 Hello Hurricane – Switchfoot

 

 
After a time of releasing albums that made people wonder about their Christian roots this album puts many of those worries to rest. Switchfoot's release of Hello Hurricane gave us a clear view of their faith and the struggles that so many of can identify with.
 

 

# 5 Go - Newsboys w/ Peter Furler

 

 
The Newsboys advocacy of missions is shown in this awe inspiring offering from the veteran group. Two albums prior to Peter Furlur's departure is one of the ultimate recordings by this Christian music giant.
 

 

# 4 In The Company of Angels I & II - Caedmon's Call

 

 
Two unique worship albums that give us fresh versions of amazing hymns and show us the talent that has made this band a staple in the Christian Music world for years.
 

 

# 3 Move – Third Day

 

 
Move by Third Day with great guests like the Blind Boys of Alabama is another fantastic offering from this southern rock power group. Showing a passion to get the gospel out to a world that is in need this album is a testament to Third Day's staying power.
The most sung worship leader of our day gives us the reason why that's true on this studio release. Made popular through the Passion conferences Tomlin unleashes his talent for song writing is this release.
 

 

# 1 Revelation – Third Day

 

 
The greatest from the greatest! While there are those who will argue the best Christian band and the best Christian album of all time for me Third Day takes the cake, the frosting and the pan it was caked in. Revelation is the ultimate show of their talent, their passion for Jesus and why they deserve to be on top of this and any other list.
 

 

Tell us in the comments below what some of your favorite Christian albums of all time are!

 

 
Resources- The Holy Bible, English Standard Version"Scripture quotations are from The Holy Bible, English Standard Version® (ESV®), copyright © 2001 by Crossway, a publishing ministry of Good News Publishers. Used by permission. All rights reserved.", www.youtube.com,photo credit: mrsoulmark via photopin cc