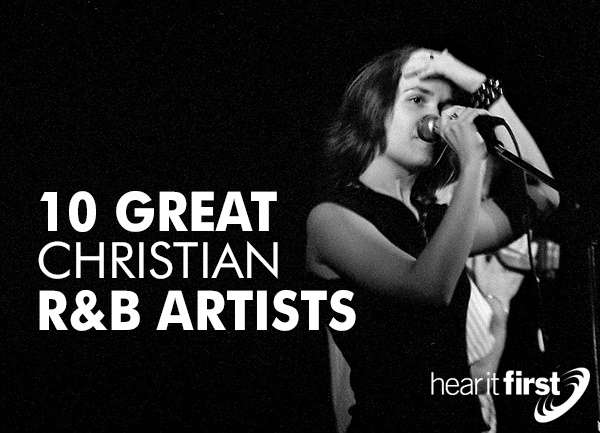 In the worldly sense, R&B music can be deeply sensual; yet in the Christian gospel music, R&B music can be deeply spiritual and moving. Many Christian musicians use their gift of writing, singing, and composing this music that specifically moves the hearts of their listeners to a deeper relationship with God. Check out the following 10 Great Christian R&B artists below:
#1) Mary Mary (Shackles, 2000)
"Now I will break their yoke from your neck and tear your shackles away" (Nahum 1:13).
Mary Mary's huge crossover song, Shackles, was an amazing testimony and witness to believers around the world. This song made you want to get up and dance for those who knew what it was to be imprisoned (literally or physically) and set free.
#2) Marvin Sapp (Never Would Have Made It, 2007)
"See, I am doing a new thing! Now it springs up; do you not perceive it? I am making a way in the wilderness and streams in the wasteland" (Isaiah 43:19).
How many of us looking back realize the hand of the Lord over us? Marvin Sapp reminds us of how the Lord carries His people through the times of difficulty. God makes a way for us even when we can't comprehend any hope through it.
#3) J Moss (God's Got It, 2012)
"Do you have an arm like God's, and can your voice thunder like his?" (Job 40:9).
So often we forget how much we depend on the Lord for our daily needs. This upbeat and soulful mix gets us back on the track towards renewing our faith in God. The Lord has everything in control…especially for those who love and serve Him.
#4) Vashawn Mitchell (Nobody Greater, 2010)
"I know that the Lord is great, that our Lord is greater than all gods" (Psalm 135:5).
This smooth gospel song encourages the faint hearted to remember how great God is. There's no one in this world or the next who can stand next to our Lord. His power and majesty reminds us that we aren't alone in our daily battles—He's greater.
#5) James Fortune (Hold On, 2012)
"Therefore we do not lose heart. Though outwardly we are wasting away, yet inwardly we are being renewed day by day" (2 Corinthians 4:16).
James Fortune's song "Hold On" reminds the weak and trembling that a way is being worked out if we just hold on. Our light and momentary troubles are nothing compared to what the Lord has in store for us. We must hold on to His promises even when the way looks dark.
#6) Earnest Pugh (I Believe You Most, 2013)
"If you declare with your mouth, 'Jesus is Lord,' and believe in your heart that God raised him from the dead, you will be saved" (Romans 10:9).
In this song believers are challenged to reflect on where their beliefs really are leaning against. Do we really believe God most of all? As we go through our trials…what is in us rises to the top and singing this song reaffirms our inner faith in God.
#7) Tramaine Hawkins (What Shall I Do, 2007)
"I will instruct you and teach you in the way you should go; I will counsel you with my loving eye on you" (Psalm 32:8).
This song is an oldie but goodie of gospel rhythm and blues. Tramaine Hawkin's voice rings out the truth of our cry to God for direction when the fog of doubt threatens our way. We are encouraged to listen carefully and trust in God for direction.
#8) Smoki Norful (I Need You Now, 2002)
"God is our refuge and strength, an ever-present help in trouble" (Psalm 46:1).
Our relationship with God is one of trust, love, and dependence. This song brings out our desperate need for the Lord at every moment of our lives. Christ is all we need no matter the trial or temptation—He will never let us down.
#9) Bebe Winans (I Found Love, 2010)
"In this same way, husbands ought to love their wives as their own bodies. He who loves his wife loves himself" (Ephesians 5:28).
I Found Love (Cindy's Song) is a beautiful melody and testament of enduring love from a husband to his wife. Women who are treasured in the Lord by their husbands are greatly equipped to live purposefully and courageously in faith. At the same time, these husbands receive great respect from their wives.
#10) Yolanda Adams (The Battle is the Lord's, 1993)
"All those gathered here will know that it is not by sword or spear that the Lord saves; for the battle is the Lord's, and he will give all of you into our hands" (1 Samuel 17:47).
Yolanda Adams' soulful cry of hope to the suffering continues to strengthen the body of Christ for years later. Sometimes the believer becomes battle weary and wonders where the Lord has gone in the heat of the battle. Just listening to this song brings hope and renewed strength to God's people.
Sing it like you Mean it!
Every Christian R&B artist has the opportunity to strengthen the body of Christ with meaningful soulful music. As we listen to the lyrics and sway to the beat—let us remember to focus all of our attention on the Lord Jesus as we praise Him for His good works.
Article by Crystal McDowell
Crystal McDowell is a writer, speaker, and teacher with a passion to encourage believers to know and grow in their relationship with Jesus Christ through practical application of God's word.
Crystal and her husband, Marshall, raise their five children in the Bloomington, IL. As a freelance writer and editor for over 13 years, Crystal has published numerous Christian curriculums for Sunday School and VBS as well as many articles dealing with marriage, motherhood, and relationships. She's a weekly staff writer for www.whatchristianswanttoknow.com as well as writing her own blog at http://crystalmcdowellspeaks.blogspot.com.